Camino Star of the North / Estrella del Norte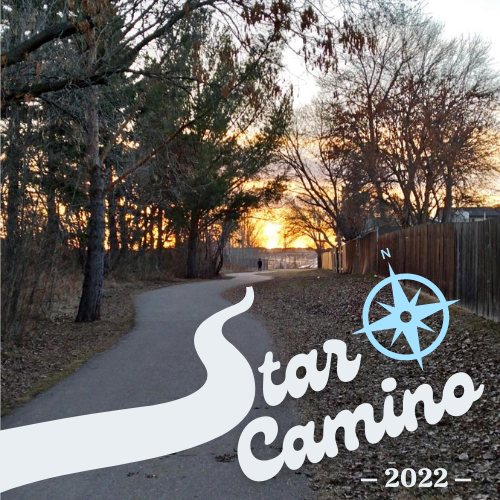 Welcome to the Star of the North Camino 2022
Walk Where You are, in Support of the Star!
Saturday, June 25th or Sunday, June 26th, 2022
The word 'camino' in Spanish means 'path' or 'way'. Spain is known for its famous "Camino del Norte" pilgrimage, or northern walking path that begins in the south of France at the town of St. Jean Pied de Port and ends at the city Santiago de Compostela. This Unesco World Heritage site welcomes thousands of pilgrims every year for an over 500 mile pilgrimage where spiritual seekers from around the world walk as a way of prayer and penance for their needs or the needs of others and the world. They walk to grow closer in relationship with God.
This year we invite you to join us on a circular, 5km walk that begins and ends at The Star of the North on Saturday, June 25th, 2022. We will meet at The Star of the North at 8:30am, and begin the walk at 9am. The Star will be ready for our return with space available to gather for socializing, drink and snacks to end our time together in community.
Or, once again walk where you are, in your neighborhood or in an area of sacred nature you'd like to explore, for The Star. Choose a time and path to walk either Saturday or Sunday June 25 or 26, 2022. Walk a spiritual pilgrimage in support of the Star's ministries of spiritual renewal through programs and hospitality on the pilgrim path. St. Augustine is quoted as saying, "It is solved by walking." Make your Camino intentional as a way to pray for an end to the war in Ukraine, for peace in our world, for immigrants and refugees, for our own hearts conversions, and to commune with nature, become more aware of our environment's needs, and to ultimately draw closer to God.
Register to walk ($50 individual/$80 for family), join us or create your camino, set a goal, and begin your pilgrimage in support of the Star!
Once you are registered,
Create your profile page and personalize your message.
Then, send the link of your page by email to your friends, family and anyone you want to invite to support the Star of the North.
Plan your walk.
Email us at director@starofthenorth.ca to let us know your plan.Take pictures along the way and share your journey with us. We will create a facebook group where we can share the highlights of our time together.

Want to Make a Donation without sponsoring or walking?
Last year, together we raised $30,000. This year, we hope to surpass that goal. We understand the difficulties everyone is facing together. We also trust in God's providence to inspire those who can, to help us face the challenges for the Star, as we develop new means of ministry for a future full of hope.