A small, courageous, ecumenical group of spiritual wanderers gathered at Star of the North Retreat Centre in November for a weekend retreat entitled Have Some Faith in Your Doubts: Spirituality for the Disillusioned as hosted by Clint Porritt.

Well-known author J.R.R. Tolkein once wrote in a poem:
"All that is gold does not glitter,
Not all those who wander are lost;
The old that is strong does not wither,
Deep roots are not reached by the frost."
Lostness implies you've made a serious mistake or you're directionally challenged. It often involves panic. Wandering removes the seriousness. Wandering is to step out your front door and see where the path takes you. To be open to a sense of adventure and discovery. A wanderer has a general sense of direction, enough to be able to throw directions to the winds. A wanderer knows there is treasure to discover both on and off the beaten path, but only if one is looking.
Former pastor-turned-philosphical-cartoonist David Hayward recaptures Tolkein's sentiment this way: "Not all who wonder are lost."
For too long religious communities have misdiagnosed spiritual wanderers as "lost", writing their experiences of doubt off as simply "a lack of faith" or offering pat answers to complex struggles. For spiritual leaders to patronize or demonize doubters is pastoral malpractice. If we're honest, everyone has spiritual struggles, often stemming from a crisis of belonging (eg. being misunderstood or hurt by a church leader or community), or a crisis of theology (eg. having deep questions about a doctrine), or a crisis of conscience (eg. having a conscientious objection to a certain belief). How we see our struggles, doubts, & questions, as enemies to faith or guides to a healthy, robust faith really matters.
The opposite of faith is not doubt, but certainty. Certain that I'm right and you're wrong does not lead us into grace or awe or humility. Certainty blinds us to the complexities of real life and relationship. Certainty leads us to evaluate our faith in superficial ways and live spiritually inauthentic lives. Certainty is a type of salvation by works; I am saved by all these correct beliefs. In certainty there is no room for God to work in us.

Faith and doubts need not be enemies. In both Christian tradition and scripture, faith and struggle seem part and parcel of the spiritual journey. As a distressed father in the Gospels once prayed: "I believe, help my unbelief".
What would happen if we started thinking/speaking about doubt in more positive ways? As healthy skepticism; a sign that you're paying attention? As a morally-neutral feeling? As curiosity, awe, or wonder? As honesty and humility? As faith seeking understanding; a sign of openness & growth?
To "have some faith in your doubts" is to recognize that your deepest moments of spiritual struggle have something beautiful to teach you. This retreat created a safe space to share both the joys and struggles of the wanderers journey. Together we found that our "roots go deeper than the frost". Together we found comfort in the understanding that you don't need much faith to follow Jesus, and that faith grows not through right beliefs but rather through faithfulness.

Our retreat time ended with this beautiful prayer by Gordon Atkinson:

God, I don't have great faith, but I can be faithful.
My belief in you may be seasonal, but my faithfulness will not.
I will follow in the way of Christ.
I will act as though my life and the lives of others matter.
I will love.

I have no greater gift to offer than my life.
Take it.

Clint Porritt
November 2021
October 19, 2021
Pilgrimage to Rome
Six women made up the delegation that visited Rome from October 7-14: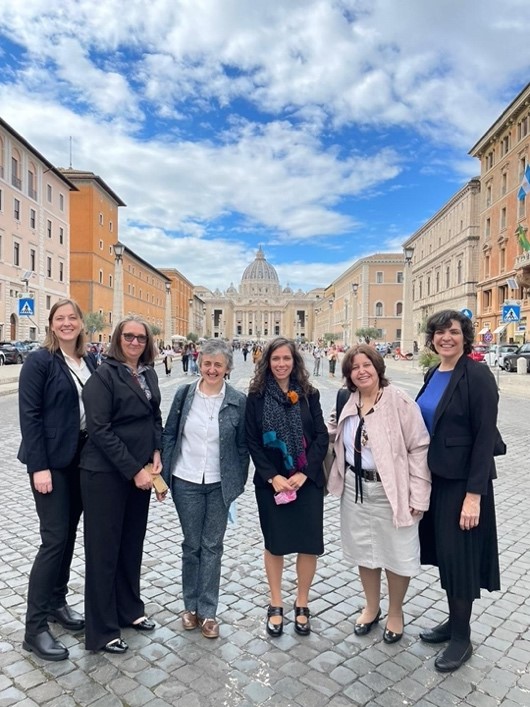 Ellie Hidalgo (end right), Casey Stanton (3rd from end on the right) and Lisa Amman (6th from right to left) from Discerning Deacons Project,
and Dorismeire Almeida (2nd from right), Ciria Mees (2nd from left) and Mariángel Marco (3rd from left) from the REPAM (Amazonian Ecclesial Network) Women's Nucleus. Our goal: to advocate for the diaconate of women.
The context of the visit was the opening of the synod on synodality, whose motto is "For a Synodal Church: communion, participation, mission."
One of the questions that the preparatory document proposes is: To whom is our Church "in debt of listening"?
Undoubtedly, women are among those "to whom" the Church is in debt of listening.
When we mentioned in the Dicastery for Christian Unity that the mere mention of the topic of the role of women in the Church provoked tension, we received anxious faces. They said that they are nervous because they have no answers. They encouraged us to take every opportunity to bring up the subject and generate dialogue, not to be discouraged by the reactions against it, because the Church needs this dialogue. Resistance comes from fear, but we have to ask ourselves where those fears come from, because sometimes the fears are false.
The invitation of the synod is to encounter, to listen and to discern. Discernment is possible if it is done unconditionally, without prejudice.
The Pope said in his homily at the opening of the Synod: when we listen with the heart, the other person does not feel judged. The attitude of listening is love. And he invited us not to entrap ourselves in our certainties.
At the public audience on Wednesday, October 13, where we had the great fortune to greet him personally, the Pope reminded us that we must renounce, not tradition, but that which contradicts the Gospel. He insisted that we must have a dynamic vision of tradition.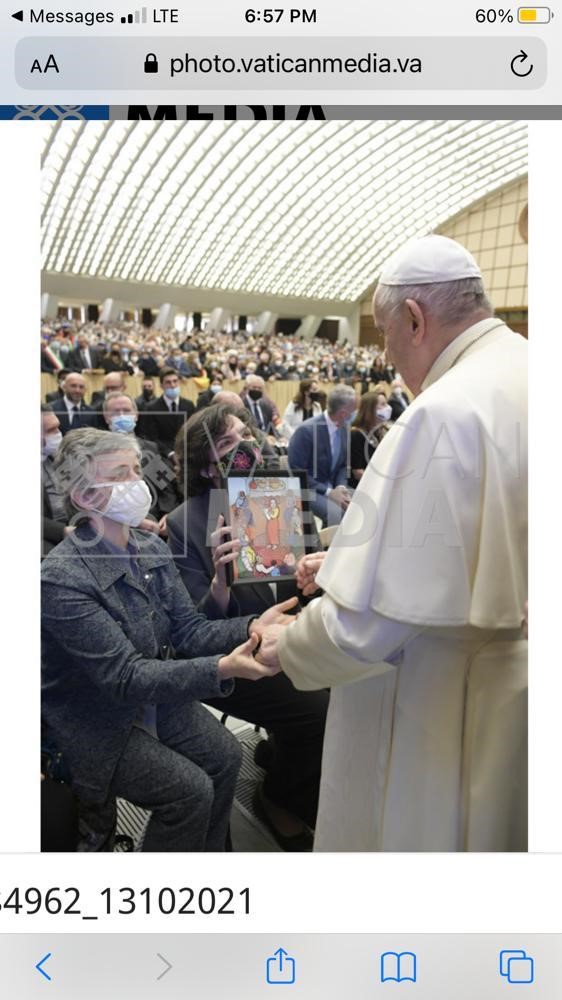 It is this dynamic fidelity that urges us to speak about the role of women in the Church so as not to contradict the creative principle of God, who created male and female in his image (Gen 1:27), and the spirit of Jesus, who welcomed women among his followers and entrusted the central proclamation of our faith, the resurrection, to a woman, Mary Magdalene.
As we discussed in Rome, there is ample literary, epigraphic and historical evidence that women deacons exercised their ministry in the West until the twelfth century. Diaconal functions are the Word, liturgy and charity. The dogmatic constitution Lumen Gentium makes it clear that ordination to the diaconate is for ministry, not for priesthood. There is no activity named in Lumen Gentium that a woman has not performed or cannot perform. Women are also called to public preaching. The fact that only men can give homilies is an annexation of the Spirit. At present this cannot be understood or accepted by women.
The synodal process that has just begun is an opportunity for the whole Church. Synodality is an instrument for listening to the will of God and responding to it.
Let us open ourselves to the newness that the Spirit is inspiring in us today, by fidelity to tradition.
Mariángel Marco Teja
Ursulina de Jesús
19 octubre 2021
Pilgrimage to Rome
____________________________________________________________________________________
July 12, 2021
Residential Schools: Need of Forgiveness
The headlines about the unmarked graves are justifiably shocking and put the spotlight on the colonialism practiced by Canada since its inception.
All the abuse that the Residential School system entailed and the atrocities committed are historical facts that make us ashamed, redden our faces and cause us immeasurable pain. We would like not to have to look at this reality, but the first step on any positive path is to choose to know, to listen, to name bluntly what happened and the damage it caused. As Pope Francis rightly says in Fratelli Tutti no. 249: "We can never move forward without remembering the past; we do not progress without an honest and unclouded memory."
On a human level we can understand the anger that the facts that come to light provoke. However, the burning of churches that are taking place serves only to feed a resentment that sickens the personal and collective soul.
What we cannot do is miss the opportunity to reflect and learn what we need to learn.
Lucie Leduc, Executive Director of the Star of the North Retreat House where I work, in the face of the pain caused by the burning of the century-old church where she and her family celebrated all the sacraments, from baptisms to weddings, shared a deep reflection: "This pain I feel leads me to think of what the Indigenous peoples must have suffered when they were forbidden to speak their language, have their celebrations, celebrate their religious rites, when their culture was denied, 'burned'".
We will have learned something if we are able to put ourselves in the place of others, to feel their pain, to be ashamed of the fact that we, as a Church, were complicit in a flawed system, and if we make a journey of conversion that purifies us and strips us of everything we need to be stripped of.
If we look at Jesus, he was born in simplicity, in poverty; there he grew up and there he acquired all his wisdom, observing and learning from the life of the women and men with whom he lived, recognizing God in everything, in nature, in daily gestures, in himself.
His entire public life was spent in precariousness, being itinerant, without any power. He was characterized by mercy, compassion, and a heart moved by the pain of others. His earthly life ended up on the cross, stripped of all dignity and power.
With this horizon, the present moment is an invitation to purify ourselves of so much of that power structure in which we have falsely wrapped ourselves, and to purify ourselves of everything that is not at the service of mercy. We have many clothes to shed.
As Leonardo Boff says, it is not enough just to be good people (feeling as such comes to a great extent from knowing that we are in tune with the dominant system of the moment); what God wants and Jesus showed us, is mercy, compassion.
This is an opportunity for purification, to live compassion, to let our hearts be moved by the pain of others. It will be listening to the pain of the Indigenous peoples that will purify us.
Regret for the pain caused ought to lead inescapably to a commitment to reparation, to the maximum extent that we can.
And the best thing that can happen to us is that those to whom we have caused so much pain, offer us their welcome, their forgiveness. There is no greater blessing we can receive.
Fratelli Tutti wisely writes in n. 251: "Those who truly forgive do not forget. Instead, they choose not to yield to the same destructive force that caused them so much suffering."
This is what I find in the Indigenous People of Sacred Heart of the First People parish in Edmonton with whom I share the celebration every Sunday. They are living examples of this redemptive forgiveness, an invitation to memory and reconciliation.
Spirituality is not something private; the social dimension is constitutive of faith in the God of Jesus. Resurrection also has its communitarian dimension; it does not happen only at the individual level - we are called to rise together.
At this moment, in Canada, we can only walk towards that moment of life after death hand in hand with our First Nations brothers and sisters. They are our mentors and our guides.
Mariángel Marco Teja, Ursuline of Jesus
Edmonton, Alberta
July 6, 2021
---
July 11, 2021
Why Stay in the Church?

Several weeks ago after giving a lecture at a religious conference, the first question from the audience was this one: How can you continue to stay in a church that played such a pivotal part in setting up and maintaining residential schools for the indigenous people of Canada? How can you stay in a church that did that?

The question is legitimate and important. Both in its history and in its present, the church has enough sin to legitimize the question. The list of sins done in the name of the church is long: the Inquisition, its support for slavery, its role in colonialism, its link to racism, its role in thwarting women's rights, and its endless historical and present compromises with white supremacy, big money, and political power. Its critics are sometimes excessive and unbalanced, but, for the most part, the church is guilty as charged.

However, this guilt isn't unique to the church. The same charges might be leveled against any of the countries in which we live. How can we stay in a country that has a history of racism, slavery, colonialism, genocide of some of its indigenous peoples, radical inequality between its rich and its poor, one that is callous to desperate refugees on its borders, and one within which millions of people hate each other? Isn't it being rather selective morally to say that I am ashamed to be a Catholic (or a Christian) when the nations we live in share the same history and the same sins?

Still, since the church is supposed to be leaven for a society and not just a mirror of it, the question is valid. Why stay in the church? There are good apologetic answers on this, but, at the end of the day, for each of us, the answer has to be a personal one. Why do I stay in the church?

First, because the church is my mother tongue. It gave me the faith, taught me about God, gave me God's word, taught me to pray, gave me the sacraments, showed me what virtue looks like, and put me in contact with some living saints. Moreover, despite all its shortcomings, it was for me authentic enough, altruistic enough, and pure enough to have the moral authority to ask me to entrust my soul to it, a trust I've not given any other communal entity. I'm very comfortable worshipping with other religions and sharing soul with non-believers, but in the church in which I was raised, I recognize home, my mother tongue.

Second, the church's history is not univocal. I recognize its sins and openly acknowledge them, but that's far from its full reality. The church is also the church of martyrs, of saints, of infinite generosity, and of millions of women and men with big, noble hearts who are my moral exemplars. I stand in the darkness of its sins; but I also stand in the light of its grace, of all the good things it has done in history.

Finally, and most important, I stay in the church because the church is all we've got! There's no other place to go. I identify with the ambivalent feeling that rushed through Peter when, just after hearing Jesus say something which had everyone else walk away from him, Peter was asked, "do you want to walk away too?" and he (speaking for all the disciples) replied: "We'd like to, but we have no place else to go. Besides we recognize that, despite everything, you still have the words of everlasting life."

In essence, Peter is saying, "Jesus, we don't get you, and what we get we often don't like. But we know we're better off not getting it with you than going any place else. Dark moments notwithstanding, you're all we've got!"

The church is all we've got! Where else can we go? Behind the expression, I am spiritual, but not religious (however sincerely uttered) lies either an invincible failure or a culpable reluctance to deal with the necessity of religious community, to deal with what Dorothy Day called "the asceticism of church life". To say, I cannot or will not deal with an impure religious community is an escape, a self-serving exit, which at the end of the day is not very helpful, not least for the person saying it. Why? Because for compassion to be effective it needs to be collective, given the truth that what we dream alone remains a dream but what we dream with others can become a reality. I cannot see anything outside the church that can save this world.

There is no pure church anywhere for us to join, just as there is no pure country anywhere for us in which to live. This church, for all its checkered history and compromised present, is all we have. We need to own its faults since they are our faults. Its history is our history; its sin, our sin; and its family, our family – the only lasting family we've got.

Ron Rolheiser
San Antonio, Texas
July 11, 2021.