RSVP: Celebrating God's Love Book Launch & Social Evening
We are pleased to invite you to a special event celebrating the release of most recent book by Archbishop Em. Sylvain Lavoie, OMI entitled Claiming God's Love: Drawing on the Wisdom of Henri Nouwen. Come enjoy an evening of wine and refreshments, special music, a book reading with a brief exercise on love and growing in self-awareness, and lots of fellowship and socializing. Copies of Sylvain's new book will be available for a donation to the Star of the North (no taxes or shipping; minimum $25 donation). No cost, but RSVP is required at 780-459-5511 or at starofthenorth.ca/lavoie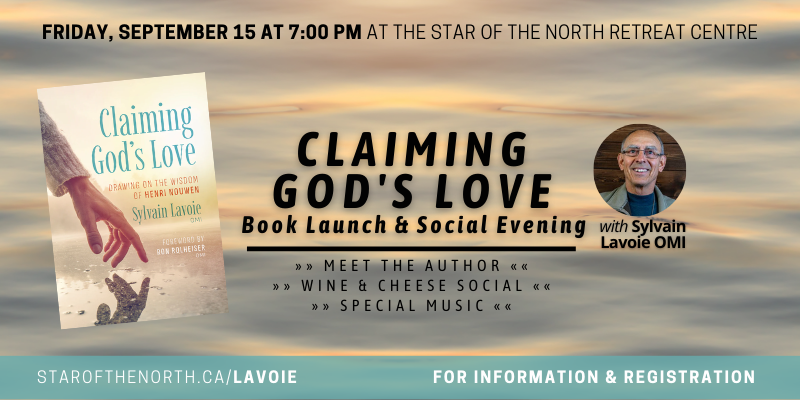 Join the Aurora Living Community this Fall
Our team here has been working hard this summer to finalize our Aurora Living: Formation Through Word & Creation modules for the upcoming program year and we are eager to welcome new applicants. If you haven't yet had the opportunity to be part of an Aurora Living module, consider engaging other life-long learners in a community at the intersection of faith and contemporary issues such as creation care, social justice & reconciliation. Inclusive of everyone, we invite you to consider joining us on this journey of hope and action! Follow the links below or contact us to find out what the buzz is about.
Fall 2023 Module – Good News: An Invitation to Everyone with facilitators Sr. Teresita Kambeitz, Dr. Linda Gibler, Ron Rolheiser, & more! www.starofthenorth.ca/goodnews
Winter 2024 Module – Communion: Words for a New Community with facilitators Dr. Sylvia Keesmaat, Lewis Cardinal, Ron Rolheiser & more! www.starofthenorth.ca/communion
Spring 2024 Module – New Creation: Hope in Troubled Times with facilitators Becky Moritz Bonham, Dr. Michel Andraos, Ron Rolheiser & more! www.starofthenorth.ca/newcreation
"Thank you to the Aurora Living Team. This was a rich opportunity for me to move into my teaching year.
I am constantly trying to "dip into the well" and move both myself and my kids/students into meaningfulness vs. mindlessness.
You are a deep and refreshing well."

"This program is exceptional in quality. Your hard work and extra efforts show and are appreciated."

"There are several things that I appreciate about this program, especially occasions to listen with compassion to stories of the journeys, past and present
of Indigenous peoples, and the opportunities to meet other genuine seekers in meaningful and respectful conversations."

"Aurora rituals helped me connect my heart with the head learning and insights of the day."

"Threaded throughout are words of scripture, contemplative practices and issues pertaining to our natural and social environments.
Throughout all is the possibility to grow in self awareness, all under the umbrella of Love!"
Do you have a higher-education goal? Contact us about how Aurora Living can contribute to your Master's degree. Our early-registration deadline for our Fall Module September 1st. Simply respond to this email and let us know you're interested!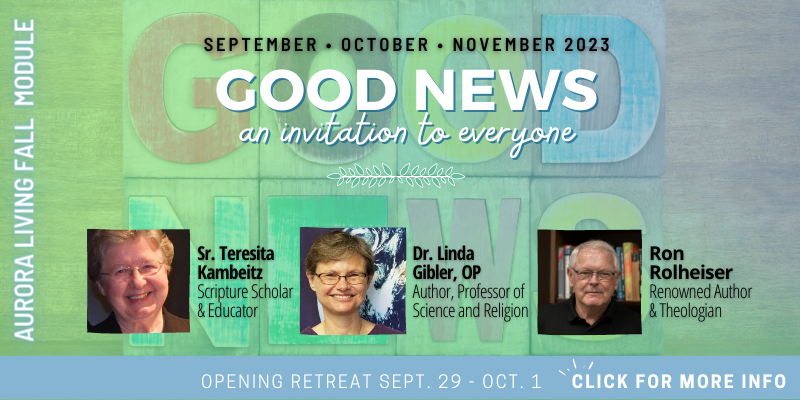 Book Your Movie Tickets for August 31
The Letter: A Message for our Earth will be screened at The Star of the North next Thursday, August 31.

The 80-minute documentary is inspired by Pope Francis' 2015 encyclical letter Laudato Si', which explores ancient Catholic teaching on creation in the light of today's ecological crisis. The film features an exclusive dialogue between Pope Francis and five people from around the world, all of whom have experienced the ecological crisis and are working to solve it.
The film, which was produced by Oscar-winning producers Off the Fence and the Catholic nonprofit Laudato Si' Movement in collaboration with the Vatican's Dicastery for Communication and Dicastery for Promoting Integral Human Development, has been watched by over 8 million people to date via YouTube.
The Letter is an opportunity for the community to spend time reflecting on the impact of the global ecological crisis and spark meaningful conversations with loved ones and neighbors.
How are you preparing for the Season of Creation? Join us on August 31 at 6:30 pm for a movie, popcorn and good discussion on seeking out the common good.

Suggested Ticket Price: $10. Register at 780-459-5511 or at starofthenorth.ca/letter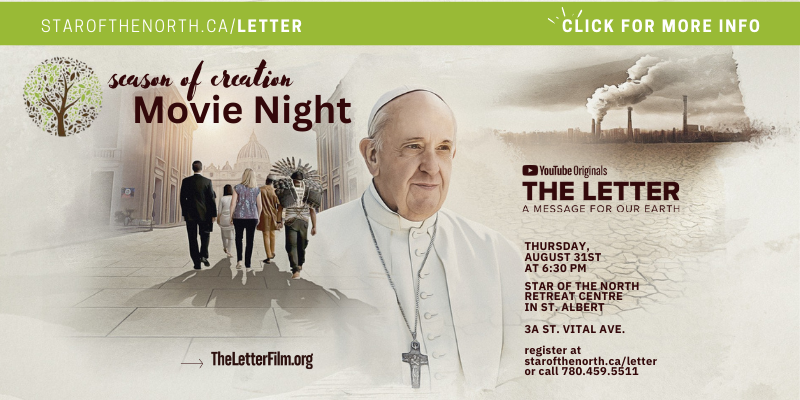 Prayer & Support This Fall
There are a lot of opportunities for prayer and support this fall at Star of the North. Both our Centering Prayer introductory evening and our Bridges to Contemplative Living series provide the guidance and space to deepen your prayer life. Our Coping With Loss group offers community and bereavement support. Twilight Recovery evenings combine input, support group sharing and prayer for those walking with addiction.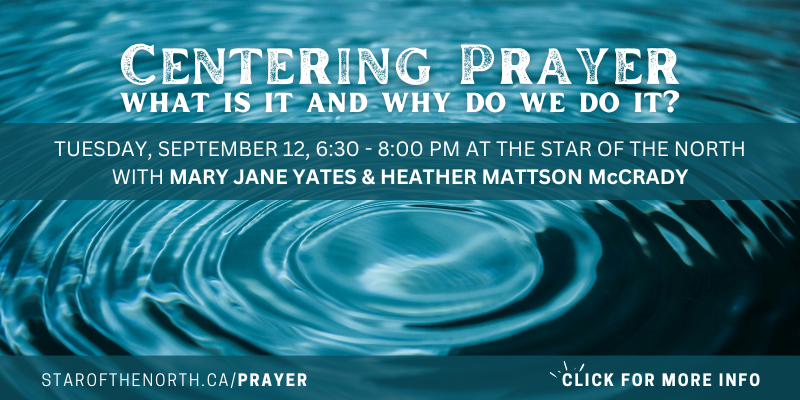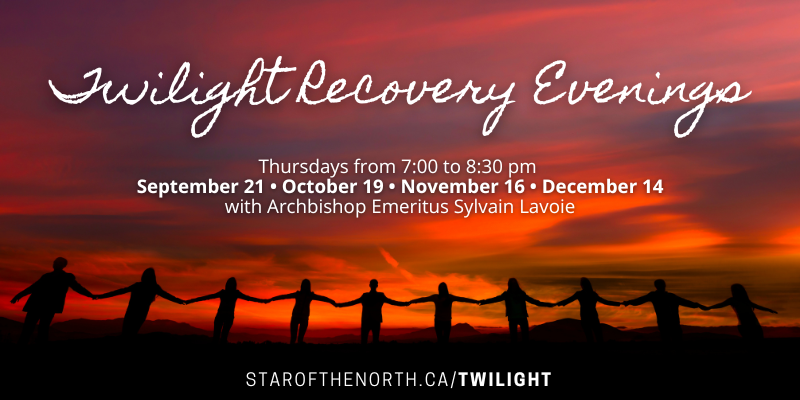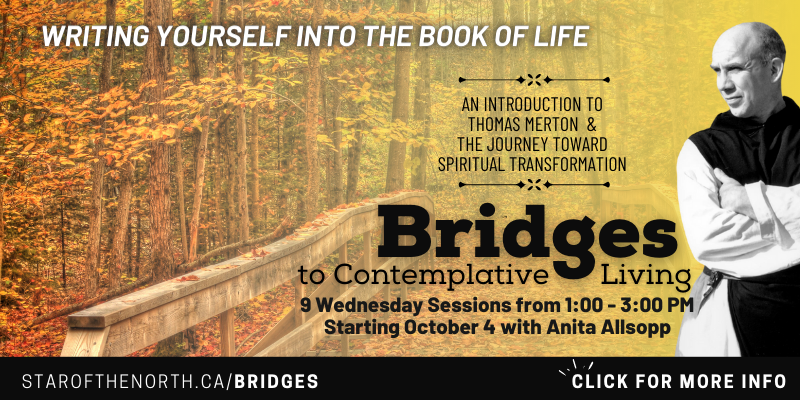 A Journey Into Exile: Jesuit Refuge Service
Refugees are ordinary people who go through extra ordinary times. A Journey into Exile is an online simulation exercise presented by Jesuit Refuge Services that invites us to put ourselves in the refugee's shoes, so that we may remind ourselves that a refugee is much more than a statistic. Throughout the exercise participants experience what a refugee goes through when they must flee their country and become aware of the challenges and dangers that refugees face by making hard decisions similar to those of refugee make every day. While we remember the challenging journeys of refugees, we share their stories in hope so that no one must flee their home.
"For I was hungry and you gave me food, I was thirsty and you gave me something to drink, I was a stranger and you welcomed me, I was naked and you gave me clothing, I was sick and you took care of me, I was in prison and you visited me" (Mt 25:35-36). These words are a constant admonition to see in the migrant not simply a brother or sister in difficulty, but Christ himself, who knocks at our door."

MESSAGE OF HIS HOLINESS POPE FRANCIS FOR THE 109th WORLD DAY OF MIGRANTS AND REFUGEES 2023
Join us just after the World Day of Migrants & Refugees, on Tuesday, September 26 from 6:30 to 8:00 pm (MT).
This is a pay-what-you-can event; suggested price $10.
Register at 780-459-5511 or at www.starofthenorth.ca/exile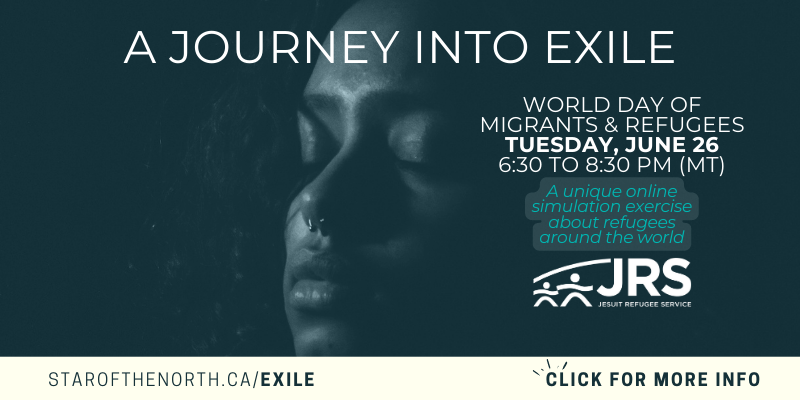 ---
Other Fall Programs at Star of the North
There are over 20 upcoming programs and events to encourage you in your spiritual formation this year. We encourage you to browse them online at www.starofthenorth.ca/programs, invite a friend to attend with you, and register early to avoid disappointment. Some programs fill up quickly, while others may be cancelled due to insufficient registrations. Early registration can also save you up to 20% on many of our programs!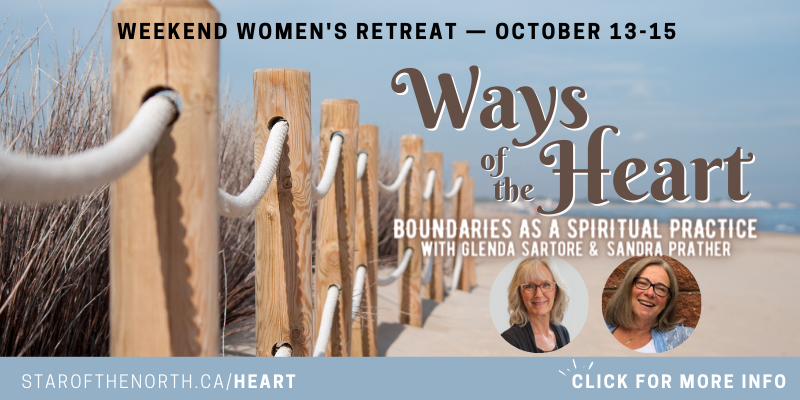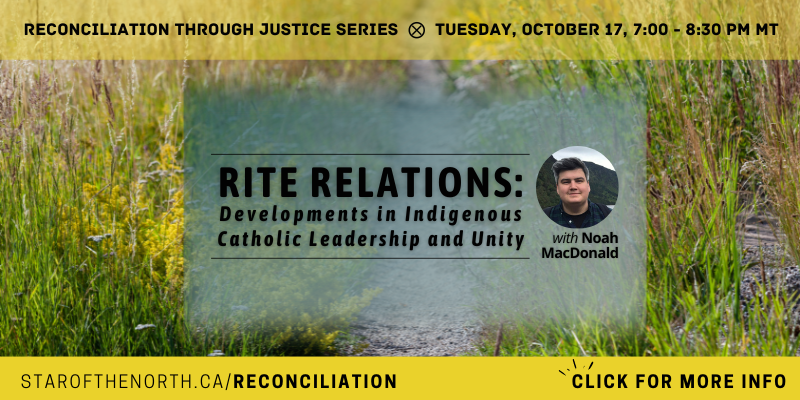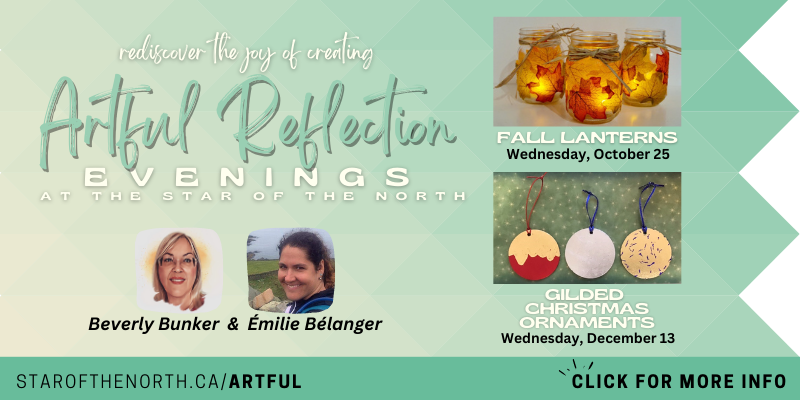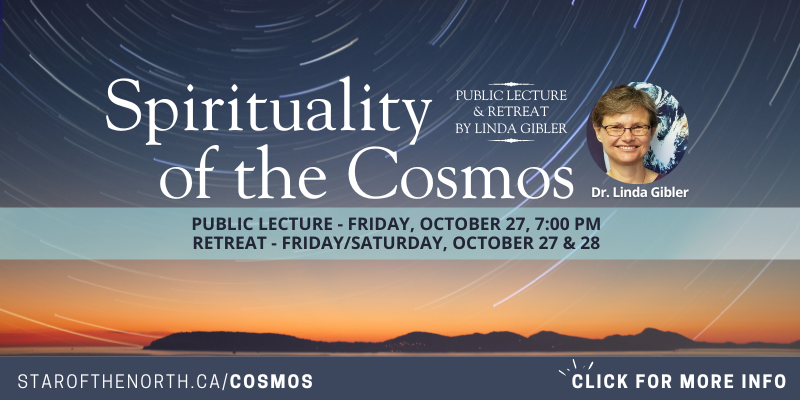 Addiction, Trauma & The Family Workshop
November 10-12
www.starofthenorth.ca/addiction
Centering Prayer One-Day Workshop
November 25
www.starofthenorth.ca/centering
Bridging the Gap: Beyond Polarization in Church & Society
Public Lecture with Ron Rolheiser
www.starofthenorth.ca/gap
Understanding the Complex Fire Within
Ron Rolheiser Retreat
www.starofthenorth.ca/rolheiser
You, Who Are On the Road - Advent Retreat
with Bob & Joan Williston
www.starofthenorth.ca/advent
Claiming God's Love Retreat
with Bishop Sylvain Lavoie, OMI
www.starofthenorth.ca/love

---

Back to All