THIS MONDAY: Start a Lenten Journey Through Scripture
Lucie Leduc and Deb Doornbos are leading a three-part afternoon series beginning next Monday (March 6), from 1:00 - 4:00 pm, entitled Tending the Soul, based on the late Sr. Macrina Wiederhehr's book The Song of the Seed: The Monastic Way of Tending the Soul.
These three retreat group gatherings will provide ritual and process (featuring Macrina's unique style of Lectio Divina) for participants to enter three stages of ten, at home, in-depth reflections with the scriptures. Come be enriched by the Word and transformed on the journey.
This program is going ahead as planned and we hope more people will sign on for this great opportunity to deepen the Lenten journey. Find out more now at www.starofthenorth.ca/tending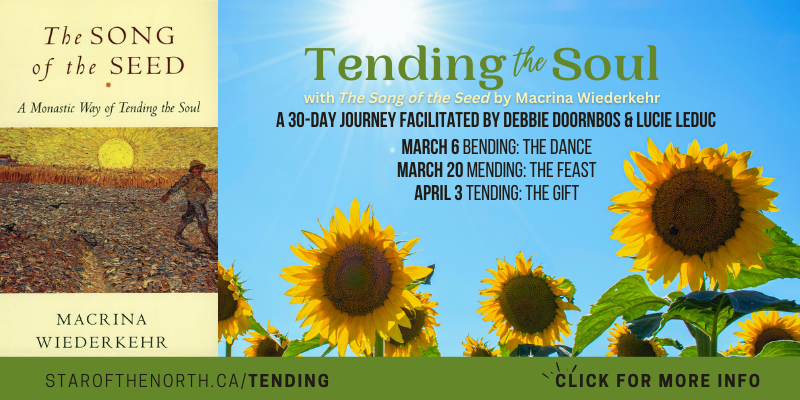 Star Camino Launch: Come Walk With the Star!
The word 'camino' in Spanish means 'path' or 'way'. Spain is known for its famous UNESCO world heritage "Camino del Norte" pilgrimage, or northern walking path that begins in the south of France at the town of St. Jean Pied de Port and ends at the city Santiago de Compostela. Every year thousands of pilgrims walk as a way of prayer and penance for their needs or the needs of others and the world. They walk to grow closer in relationship with God.
Our 2023 Camino Fundraiser for The Star of the North has officially launched! Many of you here have supported The Star on this annual spiritual walk, to support the Star's ministries of spiritual renewal on the pilgrim journey we all share and to support capital or maintenance projects for The Star. We invite you to do so again. This year we are walking to support our Star Food Security Garden project, to support funding for conversion to LED security lights outdoors, and to support the replacement of carpet in the front hallway. As COVID-19 has affected our capital reserves, any funds raised over and above our needs here, we will use to rebuild our reserve fund. Our goal is to have 30 walkers and together raise $30,000.
Once again, we invite you to join us for a sacred walk in the spirit of The Star's mission, to support The Star and to pray for The Star's and your intentions. Register by calling 780-459-5511 or visit www.starofthenorth.ca/star-camino to register as an individual or a team.
French Retreat: Le visage du Serviteur dans le Livre d'Isaïe
Star of the North a le plaisir d'offrir ce week-end de retraite en français en partenariat avec « le CÉFFA» (Conseil de l'Éducatif de la Foi catholique chez les Francophones de l'Alberta). Veuillez vous joindre à ce voyage de Carême, avec Sr. Catherine Grasswill, du 17 au 19 mars. Inscrivez-vous avant le 10 mars. www.starofthenorth.ca/serviteur

Les lectures de la Semaine Sainte nous font découvrir le visage du Serviteur dans lequel les premiers chrétiens ont reconnu Jésus qui s'est fait Serviteur et a livré sa vie pour l'Humanité entière… Nous prendrons le temps de découvrir ces textes, de les prier et de regarder ensemble ce que cette image du Serviteur, nous dit encore dans nos vies et pour le monde d'aujourd'hui.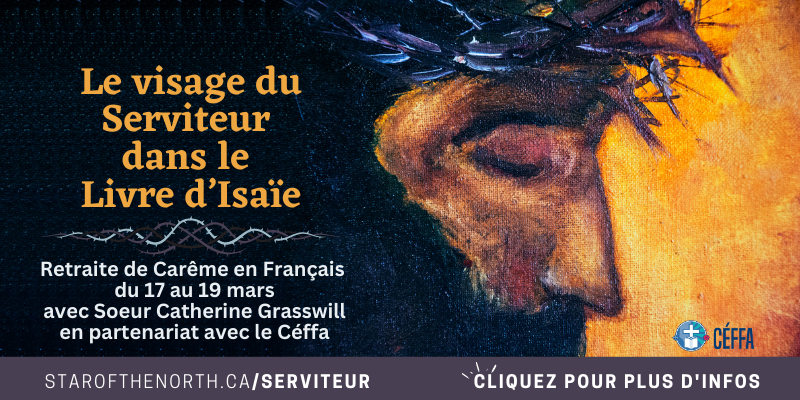 Synodality Series: Enlarge the Space of Your Tent
Many participated in part 1 of our online synodality series Enlarge the Space of Your Tent. We're grateful to announce the details for our second gathering and once again invite your participation on Tuesday, March 21 from 6:30-8:00 pm (MST). Our virtual panel conversation on the Continental Stage of the Synod on Synodality will be moderated by Dr. Carol Kuzmochka, Director and Lead Researcher of the Centre for Religious Education and Catechesis and will feature the following panel presenters:
Most Reverend Archbishop Richard Joseph Gagnon, Archbishop of Winnipeg
Father John A. Renken, Faculty of Canon Law at Saint Paul University, Ottawa
Sr. Susan Scott, educator and Catholic Women's League social advocate
Please take a moment to register at www.starofthenorth.ca/enlarge. We look forward to you joining us as part of this ongoing conversation.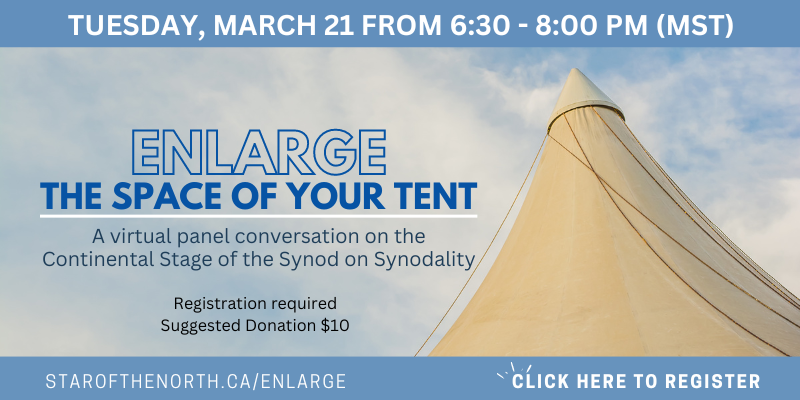 Early Registration Deadlines Coming Soon
Did you know you can save up to 20% through early registration? Early registrations help us plan ahead and ensure programs aren't cancelled due to low registration. The early registration deadline for these three spring programs is March 15th. Register today!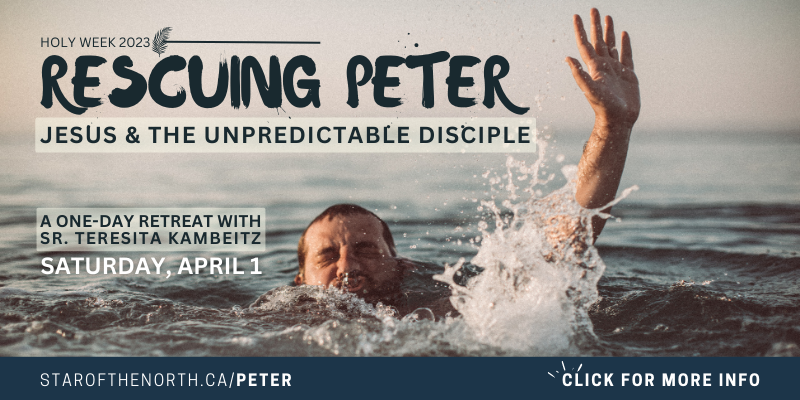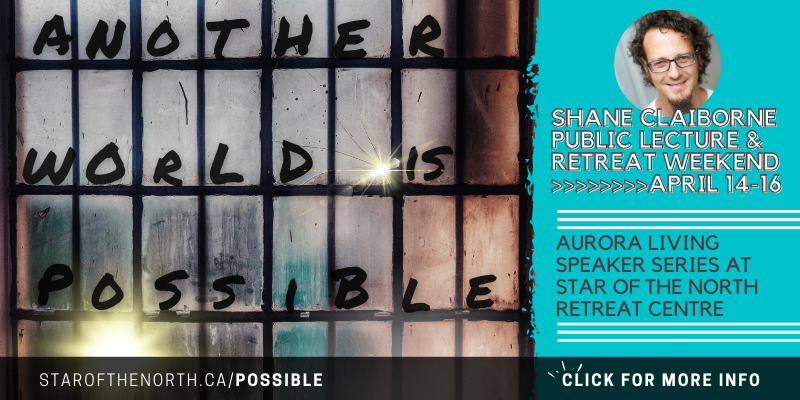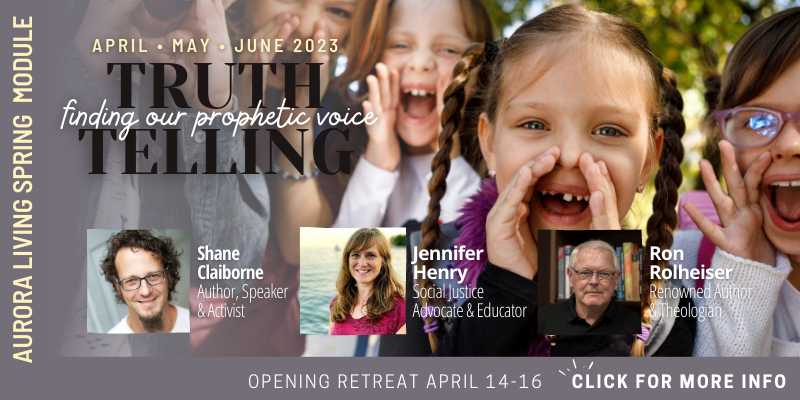 Other Opportunities to Grow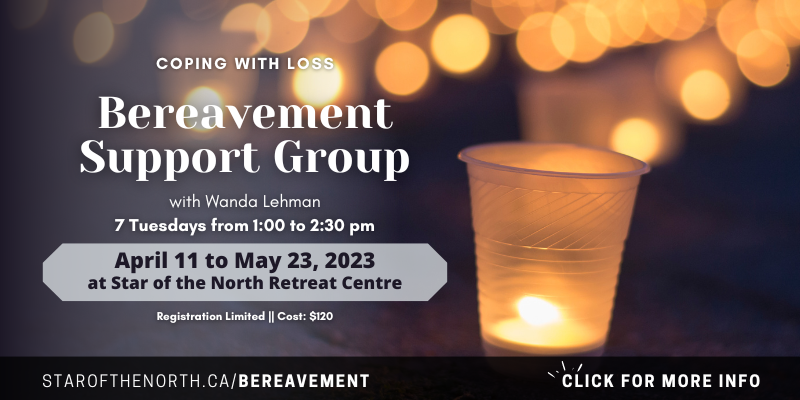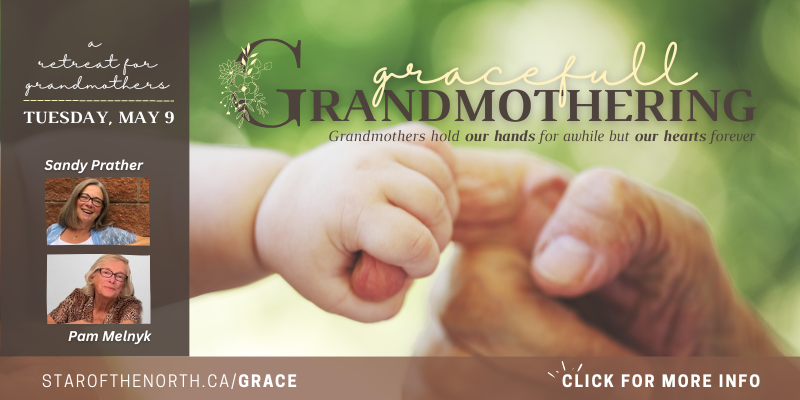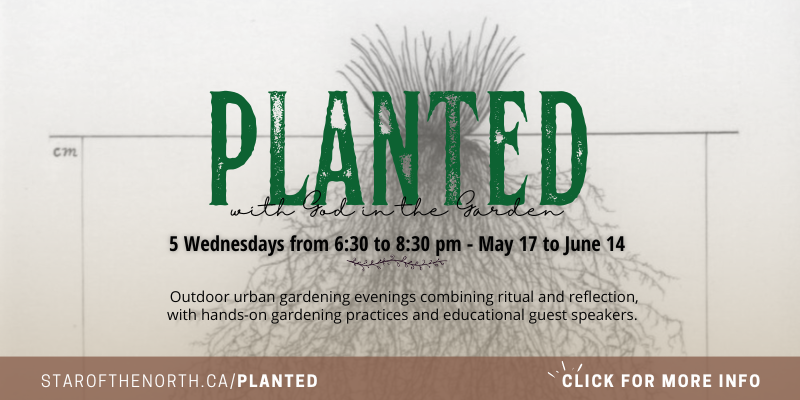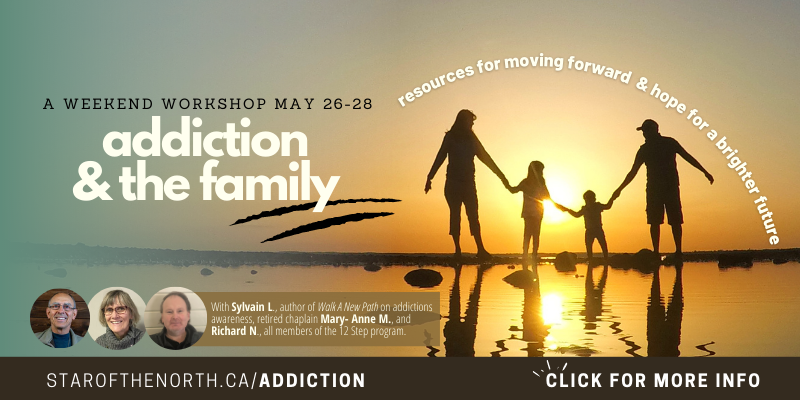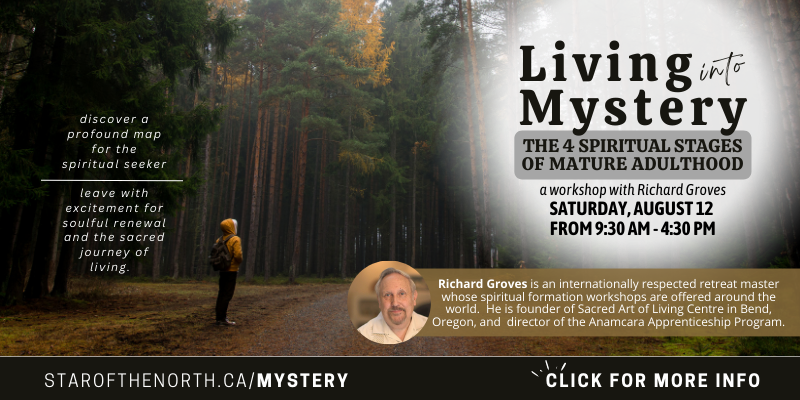 Back to All