The Story of Ruth - Registration Deadline
You are invited to join Gisele Bauche in exploring The Story of Ruth: Twelve Moments in Every Woman's Life written by Sr. Joan Chittister OSB. Through readings, self-reflection, sharing and creative expression we will seek to better understand the ancient story of Ruth, and how as women today we are still able to connect to this story. We will journey from Loss through Independence to Fulfillment—a spiritual coming home to our true self. In this time of pandemic, The Story of Ruth offers us hope and inspiration as we experience isolation and separation from those we love. As we acutely feel our own unique losses, we will gather together to explore how God is working within and among us, encouraging us to remain open to transformation and new possibilities in our lives.

Join online or in a group at Star of the North, for six Wednesday evenings (7:00-9:00 pm) starting March 2nd. Find our more at www.starofthenorth.ca/ruth

Registration Deadline: Thursday, February 24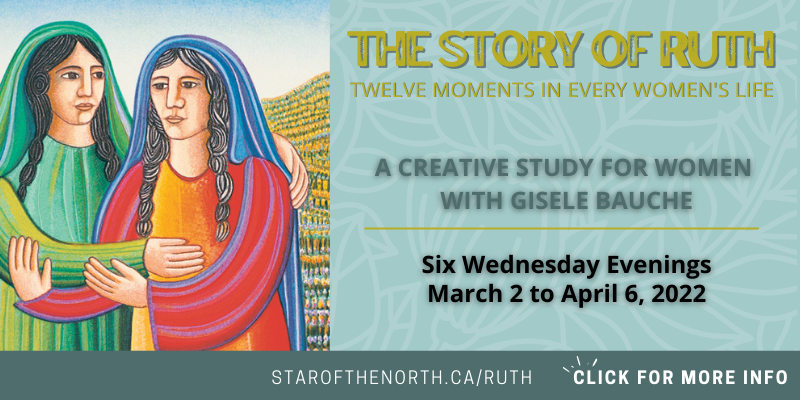 ---
Public Events Next Week:
Synod Listening Sessions, Together We Heal & Climate Hope Speaker Series
Star of the North is a busy place next week! Please register for one or more of these public events and help us spread the word in your communities.
On Thursday, February 24 we launch our first of eight different Synod Listening Sessions to be held during the next few months. Visit www.starofthenorth.ca/synod to find a date that works with your schedule!
On Thursday evening (February 24) we welcome actor/activist Georgina Lightning as our guest speaker for Together We Heal. Sign up at www.starofthenorth.ca/listening to attend in-person or online.
On Saturday evening, February 26 we welcome guest speaker Dr. Bob Summers as part of our Climate Hope Speaker Series. Sign up at www.starofthenorth.ca/climate-hope to receive a Zoom link.

---
Synod Listening Sessions
"Walking Together" as People of God
Pope Francis invites the universal Church to discern how we share the good news of the "Gospel" and walk together into the future guided by the Holy Spirit. He wants to hear from you! Whatever your circumstances or convictions in relation to connection with the church, as one of the baptized we welcome your participation in one of our online or in-person listening sessions. Find a time and date that works with your schedule at www.starofthenorth.ca/synodal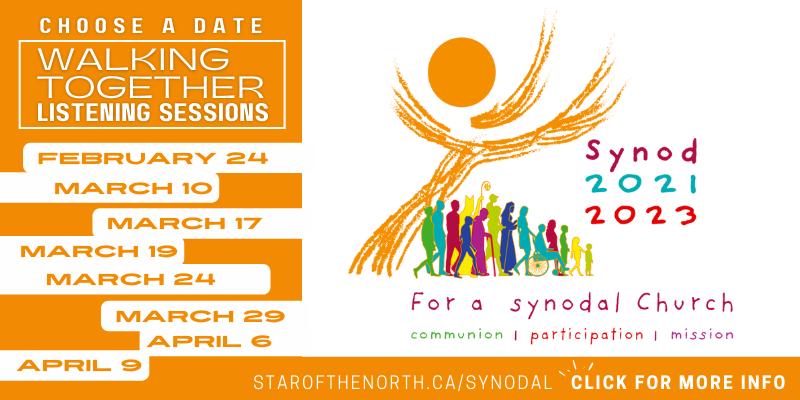 ---
Together We Heal – Join the Dialogue Circle!
Featuring Georgina Lightning
Co-Facilitated by Catherine Twinn & Archbishop Emeritus Sylvain Lavoie, OMI

These monthly Dialogue Circles serve as an opportunity to participate in decolonizing our hearts and minds while learning to walk humbly with our Creator towards healing and reconciliation. We welcome Indigenous and non-Indigenous to join these sessions, open to anyone interested in listening more attentively to the stories needing to be heard for a renewed relationship to be born; to educate ourselves about our mutual reality and how to create new pathways together.

Our fourth session, on Intergenerational Trauma with Georgina Lightning is on Thursday, February 24, 7:00 pm (MT) at Star of the North. The session will also be live-streamed virtually.
Georgina Lightning (Cree/Bear Clan Treaty 8) is a story teller, filmmaker, actress, public speaker and advocate for change, with 30 years of experience in the film and TV industry. Her films have garnered several awards including the "White House Epic Award" given to emerging artists who change the world with the works they create, such as the narrative feature film "Older Than America," exposing the residential school reality. Her current docudrama trilogy, Fantasies of Flying, Grandmothers Medicine, and Behind Closed Doors is in post-production. The hope for this trilogy is to inspire reconciliation, enlightenment, healing and to reclaim the culture lost from the genocide the Indigenous people have endured since contact. Georgina will be sharing her experience of inter-generational trauma.
The session will involve a presentation, small group sharing and a closing sharing circle with Georgina. There is no charge, but donations are welcome. Please register online or by calling 780-459-5511.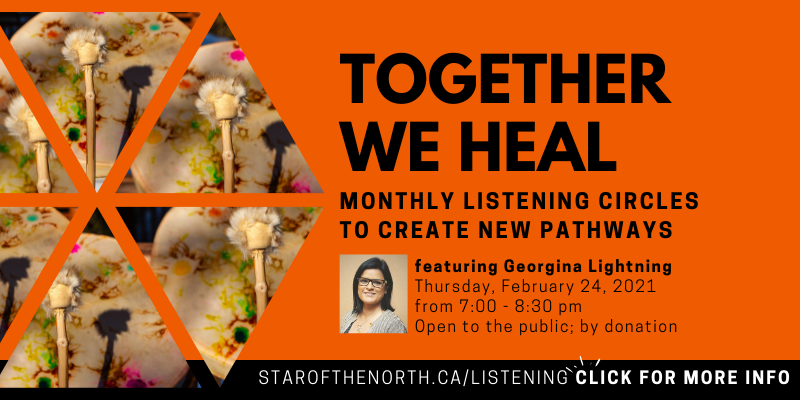 ---
What is the 15-Minute Neighbourhood?
The ideas behind the 15-Minute Neighbourhood have become popularized over the past few of years. Having access to all our needs within 15 minutes of active transportation from our homes, would not only reduce our climate impact but also greatly improve our health and quality of life. That's why we're very excited to have Climate Hope's next guest speaker, Dr. Bob Summers teach us on this topic. Bob is the Academic Director of the U of A's Sustainability Council and helped form their school of Urban and Regional Planning.

Please make plans to attend our next online public lecture on Saturday, February 26 from 7:00-8:30 pm.
You can register here at www.starofthenorth.ca/climate-hope or phone 78-459-5511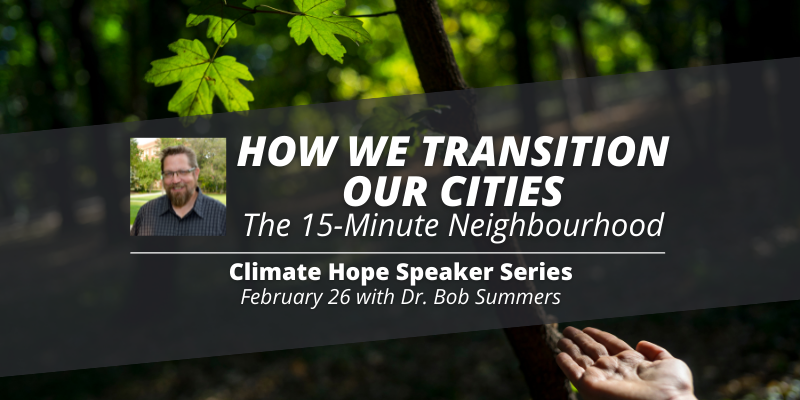 ---
Ash Wednesday Art Exhibit & Service
Drop into Star of the North anytime between noon and 4:00 pm on Ash Wednesday (March 2) for the opening of our Lenten exhibit: Kisemanito Pakitinasuwin - The Creator's Sacrifice; (or the passion of Jesus Christ). This powerful set of 17 large prints by late Cree artist Ovide Bighetty depict the vision an elder had of the passion of Jesus Christ and are arranged in a contemplative "stations of the cross"–style experience. The exhibit will remain open until March 18th.

Archbishop Emeritus Sylvain Lavoie will hold an ecumenical Ash Wednesday Service at 4:00 pm in connection to the exhibit opening. All are welcome to attend.
Ovide Bighetty (1969-2014) was a Cree self-taught artist originally from Pukatawagan First Nation on the Missinippi River in northwestern Manitoba. He was influenced by the Woodland art style of Norval Morrisseau. Bighetty's paintings are based on spirituality, stories, symbolism and legends passed down by elders. In 2002, Indigenous Christian Fellowship commissioned Ovide, who accepted the challenge to paint the Easter story in a fashion consistent with both the accounts in the gospels and aboriginal culture, in his own 'Woodland Cree' style. This collection of prints has been made available for viewing through the generosity of the Northern Alberta Diaconal Conference of the Christian Reformed Church in North America.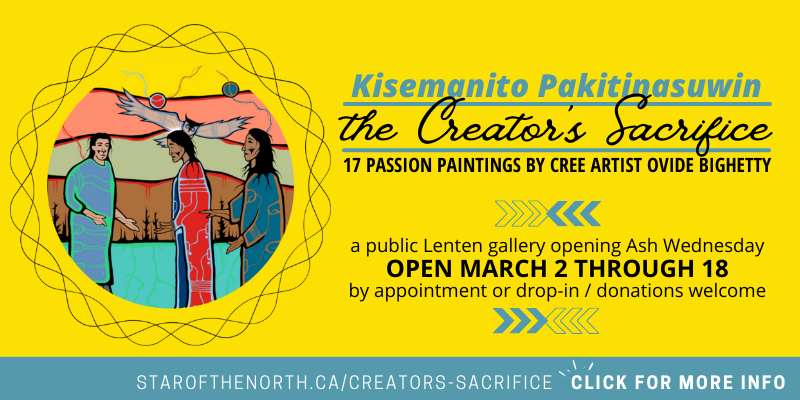 ---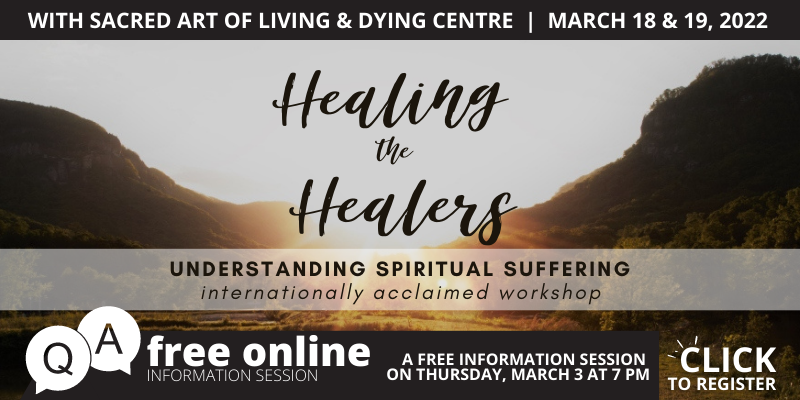 Back to All