"Walking Together" as the People of God:
Listening Sessions at The Star of the North
Pope Francis invites the universal Church to discern how we share the good news of the "Gospel" and walk together into the future guided by the Holy Spirit. He wants to hear from you! For this reason, he has called for a "Synod on Synodality" which means gatherings to listen on how we journey together.

"A Synodal Church, in announcing the Gospel, "journeys together." The questions being asked of us are:
How is this "journeying together" happening today in your local Church?
What steps does the Spirit invite us to take in order to grow in our "journeying together"?
Whatever your circumstances or convictions in relation to connection with the church, as one of the baptized we welcome your participation in one of our online or in-person listening sessions.

Find a time and date that works with your schedule at www.starofthenorth.ca/synodal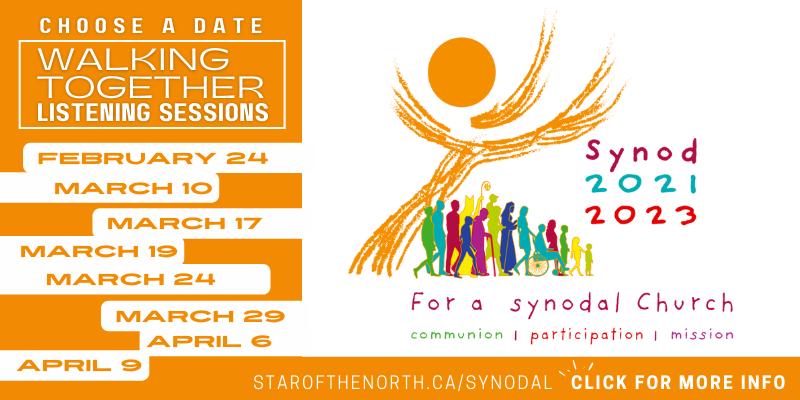 ---

---
The 15-Minute Neighbourhood:
Climate Hope Speaker Series

Over the past century, our cities and lives have been increasingly designed with the personal vehicle in mind. Our car-centric world has left many people behind, especially those who are not able to drive for a variety of reasons. Dr. Bob Summers will describe how increasing mobility options for all citizens and the 15 minute neighbourhood will not only improve our quality of life but help our cities drastically reduce their carbon usage.

Bob Summers, PhD, is the Urban and Regional Planning & Director of the Sustainability Scholars Program at the University of Alberta. His areas of research include: understanding collective action and evolving cultural Institutions, environmental governance/policy, community development and rural water supply issues.

Climate Hope is a faith-based group in Edmonton, Alberta, who are committed to educate and act on the problem of climate change. starofthenorth.ca/climate-hope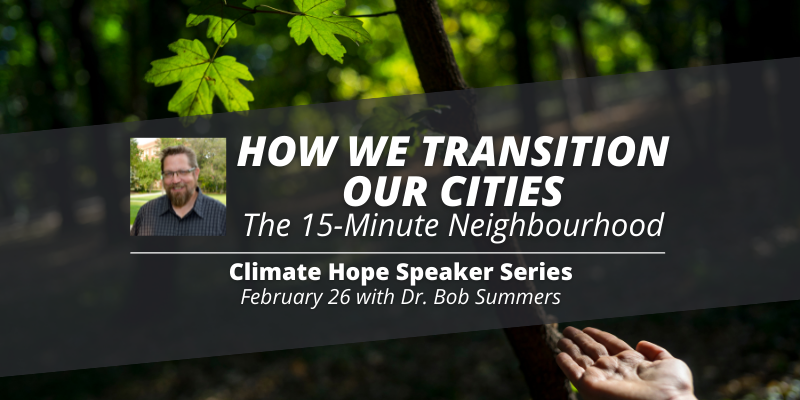 ---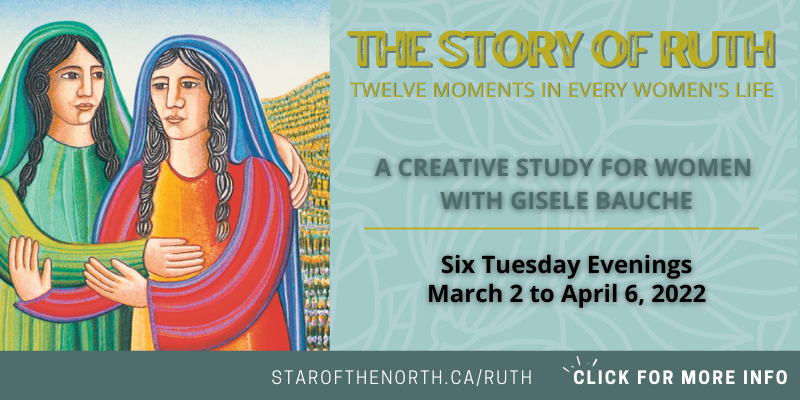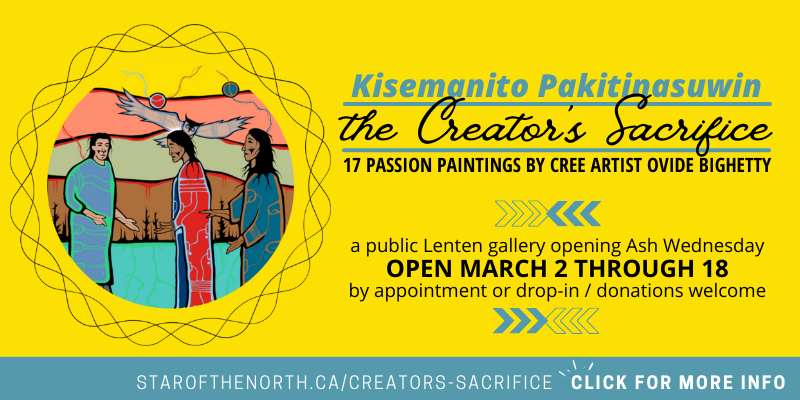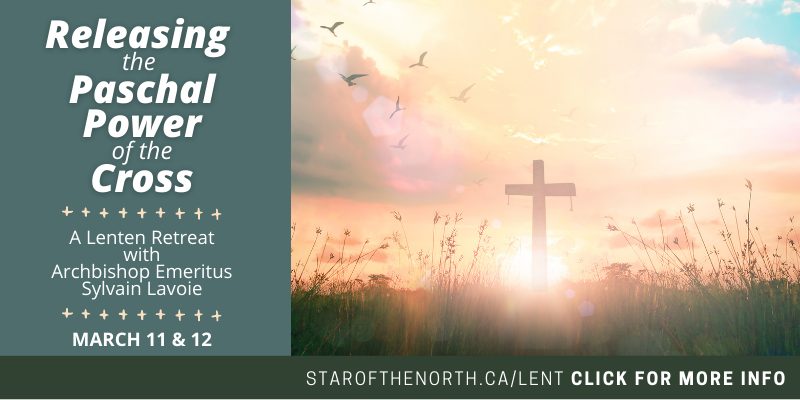 ---
What is Healing the Healers?

Join a free information session about Healing the Healers: Understanding Spiritual Suffering on Thursday, March 3 at 7:00 pm (MT) and learn more about these internationally acclaimed workshops addressing spiritual suffering.

Register at starofthenorth.ca/healers-information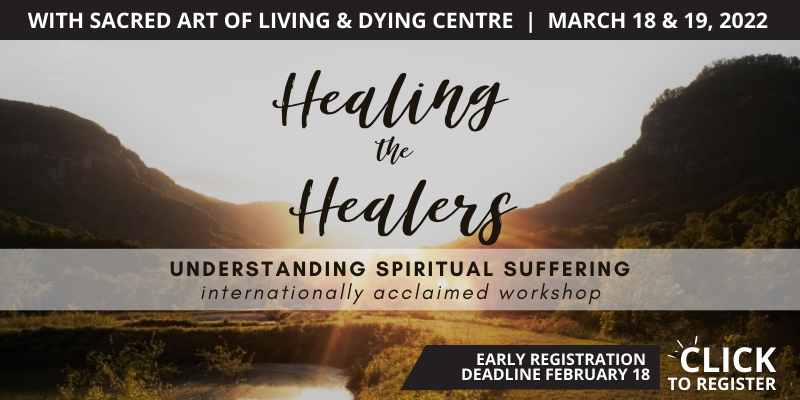 ---
Seasons of Our Lives Retreat
Nature is a wonderful teacher. Each season is like a metaphor that can speak deeply to our hearts and to our life experiences. Moving through the seasons of our lives involves a repeating cycle of change, transition, and transformation. Through scripture, poetry, reflection, and time in nature this retreat will invite us to explore our own life's seasons more deeply, and to notice how each season can enrich us, challenge us, and help us draw closer to the God. Join us March 25-27 from from at home or in-house. For more information visit starofthenorth.ca/seasons

Debbie Doornbos is the Canadian director of the Sacred Art of Living Centre. A graduate of Newman Theological College, and previously the Program Director at Providence Renewal Centre. Debbie is a trained and experienced retreat leader, facilitator and spiritual director with a special interest in journeying with people especially through life's major transitions.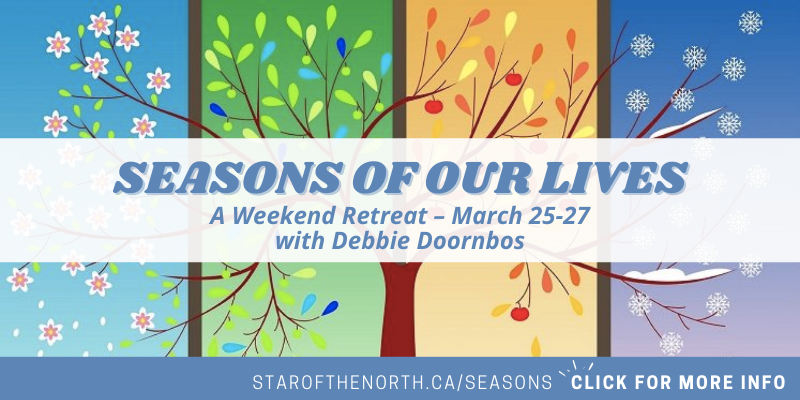 ---

Back to All