Ending Today: Summer Registration Savings
A huge thank-you to those of you who have registered for fall/winter programs at The Star of the North! This summer we have processed over 150 registrations as compared to less than 50 last summer. This incredible level of support helps us plan better programs and lessens the possibility of cancelled events due to insufficient registration.

Our early-bird online registration incentives end tonight at midnight. Why not take a minute to browse through our program offerings and recommend a program to a friend or relative? Thank you again for your continued support of the Star. Visit starofthenorth.ca/programs or browse selected programs below.

Tonight: Celebrate the Season of Creation

Join us at 6:30 pm this evening at Star of the North or online via Zoom as we celebrate the beginning of the Season of Creation together. We will be joined by Agnes Richard, coordinator for Laudato Si' Movement Canada and together will learn more about the connections between spirituality and sustainable garden practices, between personal and collective ecological action. Included in our program is live or virtual tour of Star Garden with a sampling of fresh produce. Registration by donation at www.starofthenorth.ca/creation

Celebrate Season of Creation
Thursday, September 1, 2022 at 6:30 PM (MT)
Zoom Link:
https://us02web.zoom.us/j/81026131616?pwd=MWNxQmViaUxweWNDbUhKQmFPeDhvdz09
Meeting ID: 810 2613 1616
Passcode: Creation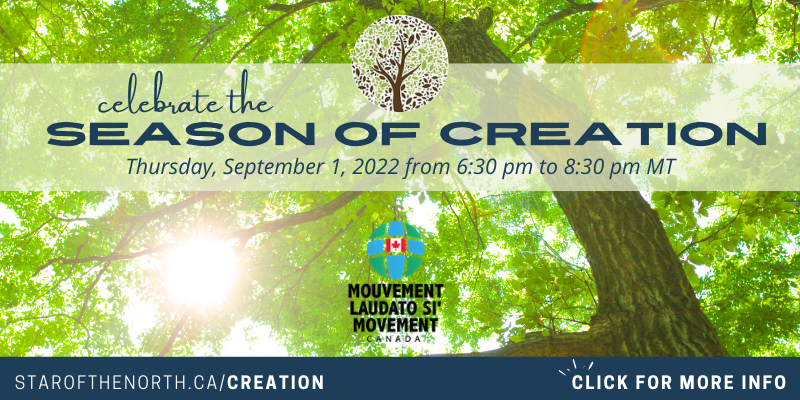 Featured Programs
Twilight Monthly Recovery Evenings with Archbishop Emeritus Sylvain Lavoie start on September 8. The evenings are open to anyone either in a 12 Step Program or loving one who is, as well as anyone wanting to learn more about addictions and the recovery process.
There is a saying that one does not graduate from the program. Nor does anyone ever stop learning, growing and healing. These evenings will combine input, support group sharing and prayer. You are invited to participate in this exciting venture of faith, fellowship and personal growth.
Register at www.starofthenorth.ca/twilight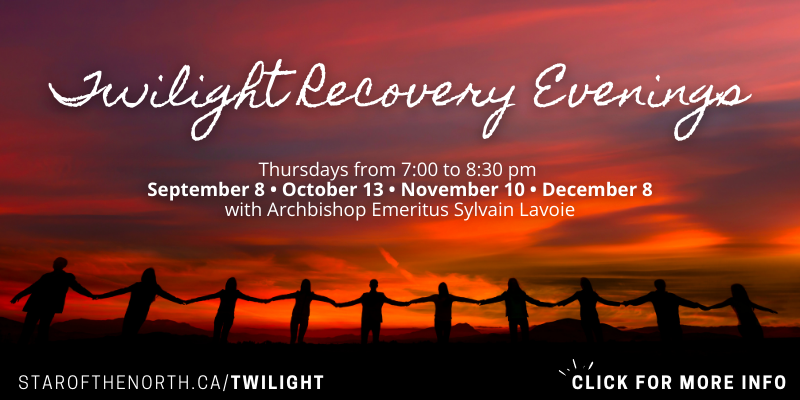 Aurora Living Fall Module – Psalms: Singing Joy & Lament begins with a September 23-25 retreat weekend featuring renowned musician Steve Bell and Indigenous educator Crystal Arcand. Psalms embrace our emotions, giving us words to express ourselves to God in the diverse moments of life. Come engage with a formation community at the intersection of faith and contemporary issues such as creation care, social justice, and reconciliation.
Register at www.starofthenorth.ca/psalms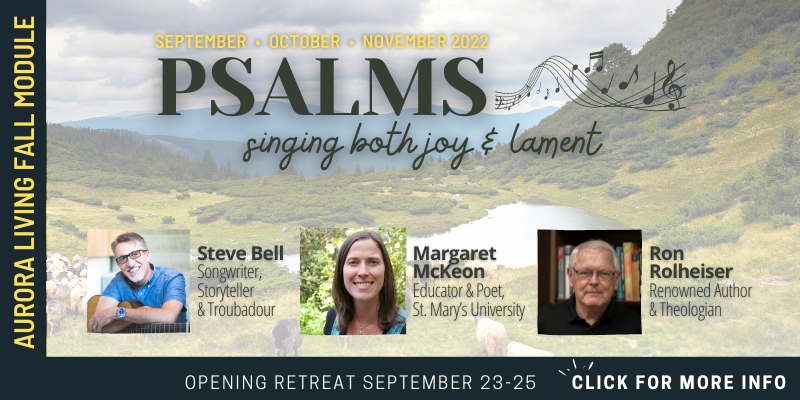 Reconciliation Through Justice: Housing is a continuation of the well-received Together We Heal series, moving us toward action. We welcome elder Fred Gloade, co-chair for the Saint Vincent de Paul housing initiative exploring Indigenous housing in the Ottawa area to join us on Thursday evening, September 29. Registration by donation.
For former TRC commissioner Chief Willie Littlechild, reconciliation follows a process of truth-telling, healing, forgiveness, and justice. Others would say an apology only takes on meaning when there is action. This three-session series entitled Reconciliation Through Justice will focus on the issues of housing, water and land.
Register at www.starofthenorth.ca/reconciliation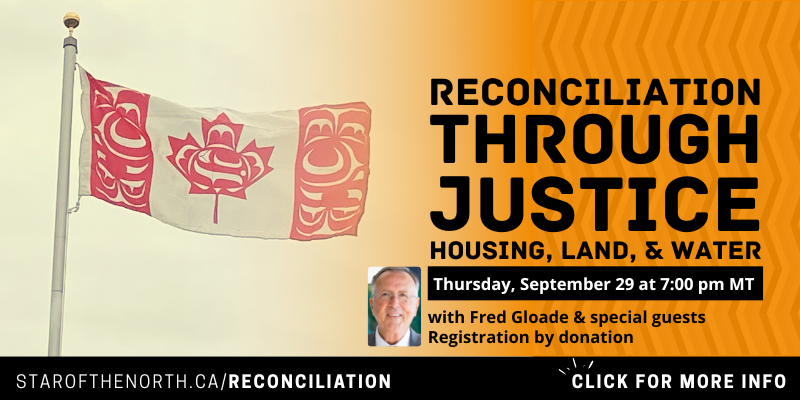 Outcasts Who Belong: Jesus & Unnamed Women in the Gospels is a series of three sessions with well-known educator Sister Teresita Kambeitz. Choose afternoons or evenings to attend in November as we reflect on Jesus encounters with 10 outsider women who belong as insiders in the new world he came to establish.
Register at www.starofthenorth.ca/outcasts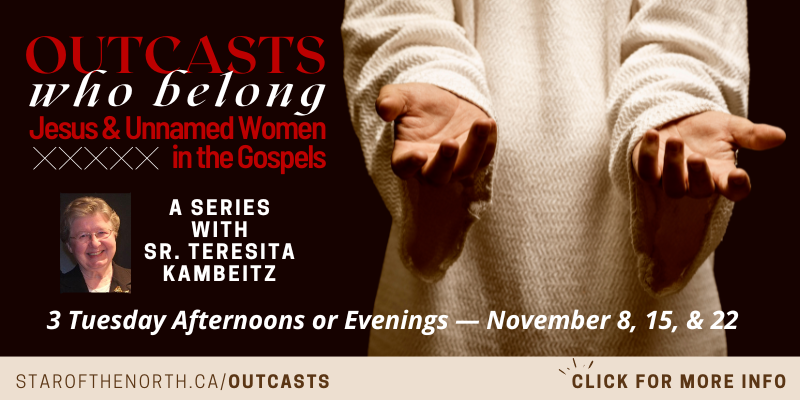 The What, Why, Where & How of Being a Synodal Church is an informal evening (November 10) with teacher Sandy Prather exploring questions around what it means to 'walk together in the Spirit' as a synodal church.

Register at www.starofthenorth.ca/synodal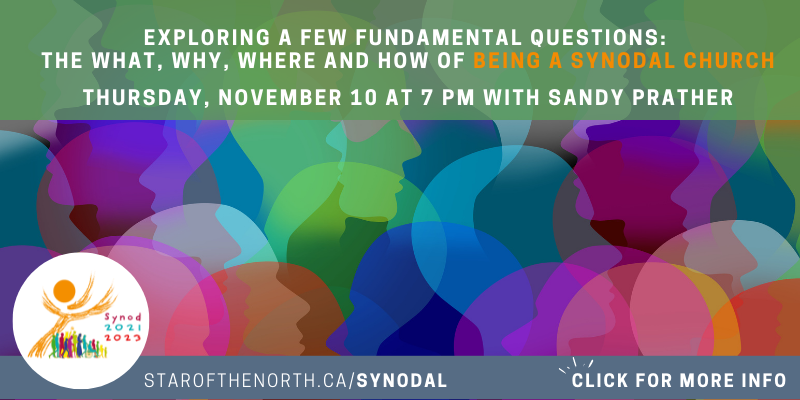 Your Whole, Free Heart: A Spirituality for Wanderers is a weekend retreat (November 25-27) with educator Clint Porritt exploring spiritual struggle, doubt and disillusionment with God and/or the church. Come discover a place for wonderers and wanderers in the reality of God.

Register at www.starofthenorth.ca/wander
---

Back to All