News at The Star
CELEBRATING 1 YEAR OF AURORA LIVING

A number of folks far and near joined us this past weekend to celebrate our first year of Aurora Living: Formation Through Word & Creation. Our morning presentation was by Joe Gunn, executive director of Centre Oblat, followed by an exclusive video presentation by Sr. Joan Chittister in the afternoon. Our closing ritual included these words by Mariangel Marco Teja:
"A year of walking with Aurora Living Spiritual Formation comes to a close. The feeling of richness and gratitude prevails, and for many of us, it has certainly been a transformative experience. We are not the same as when we started. We are, to a certain extent, a better people. A good number of speakers have accompanied us, but even more important has been the journey we, the participants, have made together. The decisive steps of some of us have supported the steps of others, and we have all helped each other. "
We concluded our time together with great food, music, and conversation. We are so grateful for the 22 participants who were a part of year one of this signature program and we are excited to see how the Spirit continues to move us into year two. Details coming soon!
---
EMPLOYMENT OPPORTUNITY: PART-TIME HOUSEKEEPING
Star of the North is seeking a part-time housekeeper. The position includes making beds, dusting, vacuuming and general facility cleaning working directly with the Housekeeping Supervisor. Hours required are Mondays, Tuesdays, and Fridays, 9:00—3:00.
Start date flexible. Previous experience preferred.
Apply with attached resume by email to: admin@starofthenorth.ca
OR by mail to: Star of the North Retreat Centre, 3A St. Vital Avenue, St. Albert AB, T8N 1K1
We appreciate your interest but only those short-listed will be contacted.
---
STAR GARDEN UPDATE
Is it time yet for the rain to stop? Most of our seed has sprouted and we are excited for a weekend of sun to help the growth process. The garden is really starting to green up!





Thus far we've had 10 volunteers contribute almost 50 hours of work toward this project! Thank you so much for all those who've been able to lend a hand, especially in-between rain storms. This coming week our list of tasks includes:
Here are some of the tasks that need to be taken care of:
Second planting of beans (1 hour)
Laying straw throughout our pea bed (1 hour)
Mulching around our onions (1 hour)
Cleaning up pathways where there are weeds getting through (1 hour)
Relocating our wood chip pile (1 hour)
Relocating our cardboard pile (1 hour)
Emptying the last 30 mulch bags (1 hour)
Planting dill seed (30 minutes)
Preparing a small bed and planting wild flowers (1.5 hours)
Preparing a small area to begin a raspberry patch (1.5 hours)
If you'd like to get involved, please let us know. Volunteers are welcome to drop-in at any time and we'll get you going on a task. Contact Clint at programs@starofthenorth.ca or call 780-459-5511.
---
This Weekend: Star Camino
Three things you could do to support the Star of the North this weekend:
Join us on a circular, 5 km walk that begins and ends at The Star of the North on Saturday, June 25th, 2022. We will meet at The Star of the North at 8:30 am, and begin the walk at 9:00 am. The Star will be ready for our return with space available to gather for socializing, drink and snacks to end our time together in community. Click to register to walk ($50 individual/$80 for family) in support of the Star, and collect pledges from family and friends.


Walk where you are, in your neighborhood or in an area of sacred nature you'd like to explore, in support of the Star. Choose a time and path to walk either Saturday or Sunday June 25 or 26, 2022. Walk a spiritual pilgrimage in support of the Star's ministries of spiritual renewal through programs and hospitality on the pilgrim path. St. Augustine is quoted as saying, "It is solved by walking." Make your Camino intentional as a way to pray for an end to the war in Ukraine, for peace in our world, for immigrants and refugees, for our own hearts conversions, and to commune with nature, become more aware of our environment's needs, and to ultimately draw closer to God. Click here to begin collecting funds.



Send in a donation, in support of a specific walker or team.

Click to get a glimpse of how our fundraiser is going.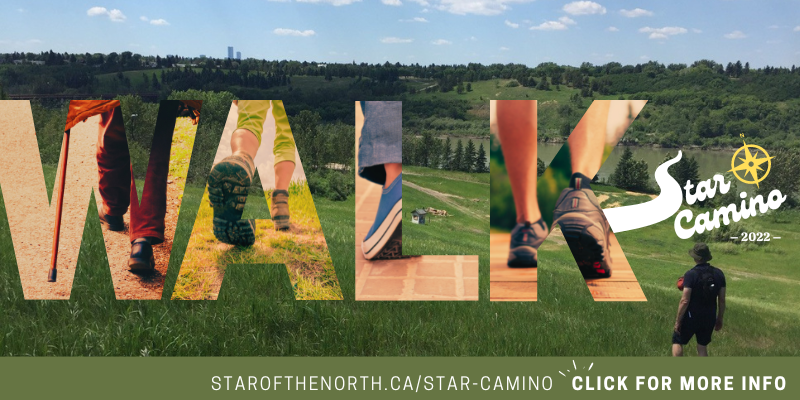 ---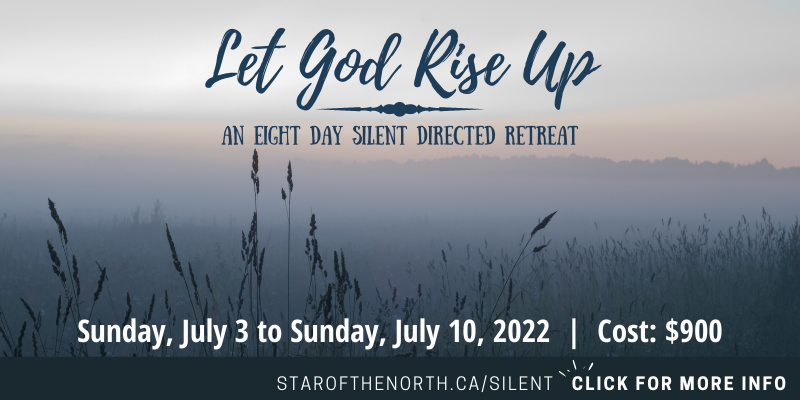 ---
Back to All