Registration Deadline for Dr. Ray Aldred
Join a one-day retreat with well-known speaker and director of the Indigenous Studies Program at the Vancouver School of Theology, Dr. Ray Aldred on Saturday, May 28th.
Dr. Ray Aldred will joining us in-person to present on the topic of Leadership: Empowered for Service. This one-day leadership retreat is a wonderful opportunity for both individuals and ministry teams to grow in pondering these important questions:
How am I a leader? What does leadership look like in a time of important social change?
What kind of leader was Jesus and how is he leading us in this historical moment?
How do we speak hard-truths? How do we stay engaged in the work, yet avoid burnout/despair, etc.?
What kind of leaders do each of us need to become in order to contribute to the flourishing of the world?
The retreat runs for 4 sessions from 9:00 am to 5:00 pm MT, both online and in-person, with an extended break in the afternoon to allow time for rest & reflection. For in-person participants, lunch and snacks are included in your registration. The cost for online participants is $90; for in-house participants $120. Teams of 5 or more receive one registration free. Would you take a few minutes to consider registering for this event and forwarding it to developing leaders within your work or congregation? You can register through our website at www.starofthenorth.ca/aldred or by calling us at 780-459-5511. Please register by Wednesday, May 25th.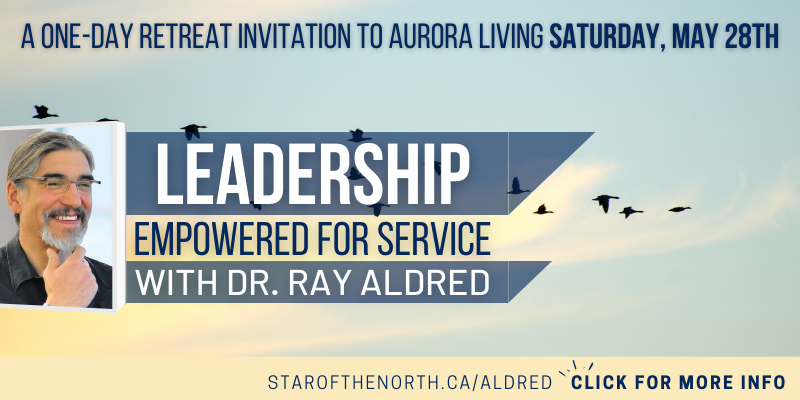 ---
Star Garden: Soil Preparations & Planting

The Star of the North is developing a urban garden focused on increasing access to fresh produce for those in need within our community. We are so thankful for the handful of volunteers who have come out to help prepare beds this past week. The statistics are growing each week!
40+ work hours
1500 square feet of cardboard collected and in place
640+ bags of leaves and grass being processed for composting/mulch material
50+ wheelbarrows of wood chip moved and in place
Next week we will be continuing regular afternoon drop-in work bees on Wednesday, Thursday & Friday (May 25-27) from 2:00 to 5:00 pm as the weather permits. From preparing cardboard to watering to hauling bags of leaves, there are jobs for all abilities! Let us know if you're able to pitch in by contacting Clint Porritt at 780-459-5511 or programs@starofthenorth.ca
Mixing and raking mulch
Shoveling wood chips
Spreading straw by hand
Spreading compost
Stringing rows
Watering & more!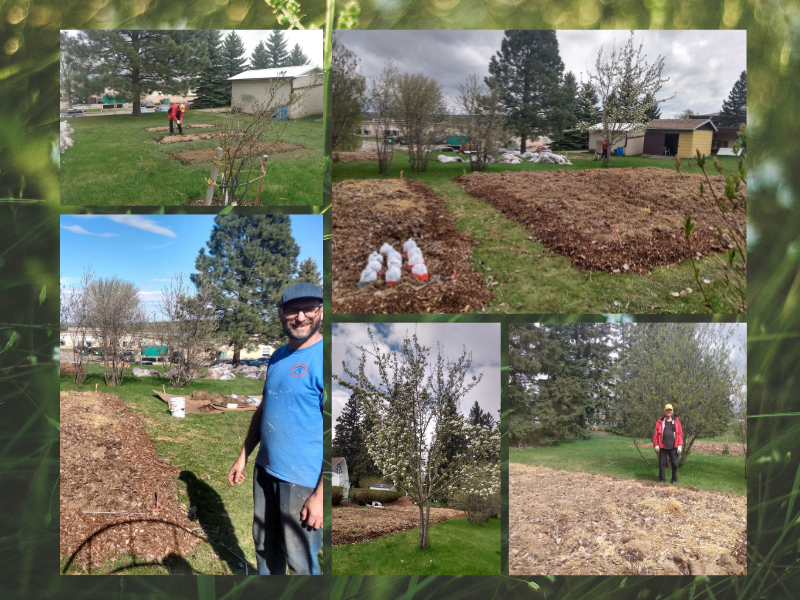 Thank you for your help in getting this project off the ground. There are still a number of practical things we are looking for to move this project along:
Tomato plants & seed potatoes
Untreated/unpainted fence boards (in any condition)
Untreated/unpainted plywood (in any condition)
Bagged yard waste (leaves, grass clippings, wood chips, etc.) can be dropped off anytime at Star of the North in the NW alcove area by the chapel.
Interested in partnering in this project as a regular volunteer? Please take a minute to sign up on our volunteer list at https://forms.gle/z2DS6U75p2w6vprc7
---
Come Celebrate With Us!
June 18th marks the last day of Aurora Living Year 1 and we are gathering mark this milestone occasion with celebration! We invite the public to join us for a Saturday afternoon featuring an exclusive video presentation by Sr. Joan Chittister on Frattelli Tutti, a time of discussion, and a powerful ritual and ceremony followed by a celebration dinner. Limited dinner tickets available, so register early . We look forward to celebrating together!

Schedule:
2:30 pm (MT) Aurora Living Video Presentation by Joan Chittister
4:30 pm (MT) Aurora Living Year 1 Closing Ritual & Ceremony
5:30 pm (MT) Celebration and Dinner
Registration starofthenorth.ca/celebrate or call 780-459-5511):
Early-Bird Online (by June 1) - $25
Regular Online (after June 1) - $40
In-Person with Dinner Ticket - $60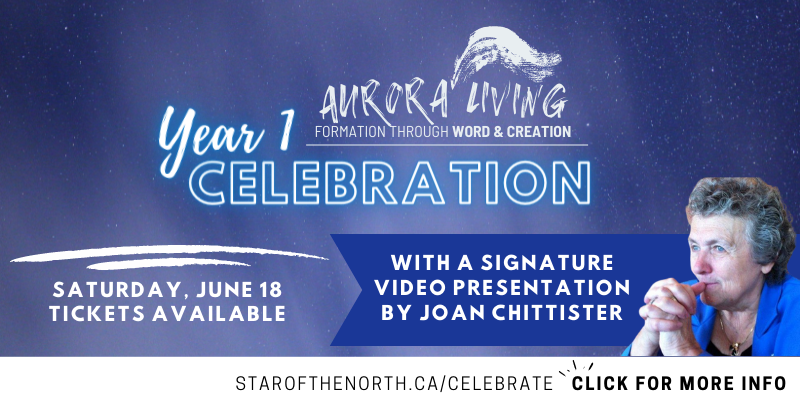 ---
Walk With Us - Star Camino 2022
Welcome to the Star of the North Camino/Estrella del Norte 2022
Walk Where You are or join us to walk in Support of the Star!

Join us June 25th, from 8:30 am to noon with lunch provided after our walk
The word 'camino' in Spanish means 'path' or 'way'. Spain is known for its famous "Camino del Norte" which welcomes thousands of pilgrims every year for an over 500 mile pilgrimage where spiritual seekers from around the world walk as a way of prayer and penance for their needs or the needs of others and the world. They walk to grow closer in relationship with God.
This year we invite you to join us on your choice of one of three local paths beginning from The Star of the North on Saturday, June 25th. Or chose a time on Saturday or Sunday and walk where you are, in your neighborhood or in an area of sacred nature you'd like to explore.
Walk a spiritual pilgrimage in support of the Star's ministries of spiritual renewal through programs and hospitality on the pilgrim path. St. Augustine is quoted as saying, "It is solved by walking." Make your Camino intentional as a way to pray for an end to the war in Ukraine, for peace in our world, for immigrants and refugees, for our own hearts conversions, and to commune with nature, become more aware of our environment's needs, and to ultimately draw closer to God.
Register to walk through starofthenorth.ca/star-camino ($50 individual/$80 for family) to create your camino, set a fundraising goal, and begin your pilgrimage in support of the Star!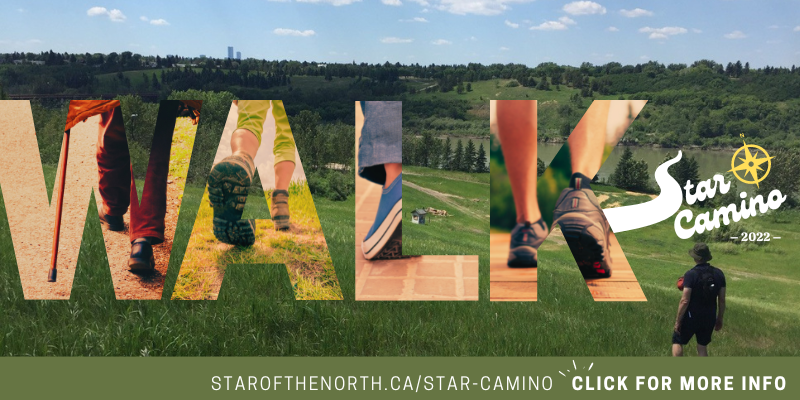 ---
Slow Down This Summer: July Silent Retreat
"Let God Rise Up" Ps. 68:1
An Eight Day Silent Directed Retreat
Sunday, July 3 (3:00 pm) to Sunday, July 10 (1:00 pm), 2022
Registration: Live-in $900 (includes meals and lodging)
Find rest and renewal in a peaceful and healing environment. This retreat is an opportunity to come aside; away from the usual noise and busyness of daily life. The invitation to enter stillness, refresh your spirit, and renew your relationship with our loving God awaits you in this summer retreat. Prayer, daily reflections, individual direction sessions, Eucharist, healthy meals, walking trails, and rest are all elements of this retreat. Includes meals, accommodations, spiritual direction & brief daily reflections.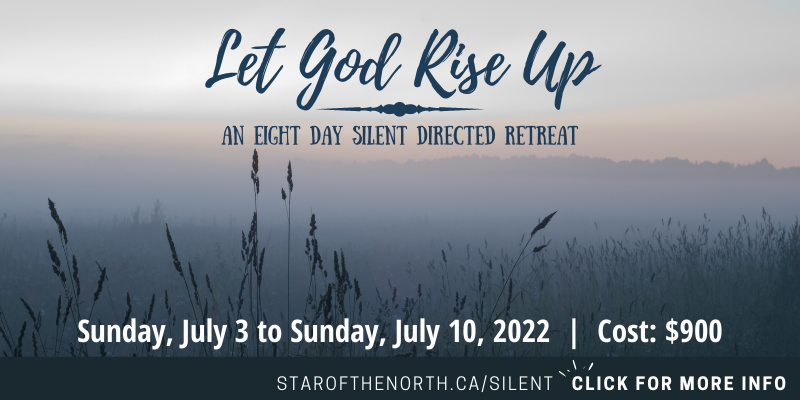 Back to All