Together We Heal Listening Circles
Join the dialogue circle as we continue to walk humbly with our Creator toward healing and reconciliation. Our special guests are Gary Gagnon and Archie Arcand with perspectives on the recent delegation to Rome. Thursday, April 21 at 7:00 pm (MT). By donation. Phone 780-459-5511 or register at www.starofthenorth.ca/listening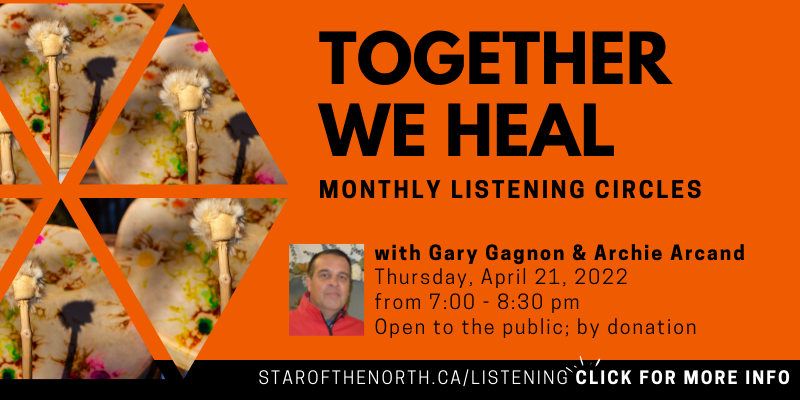 ---
Our First Spanish Retreat
Is it possible to live as resurrected people now? If you have connection to Spanish speakers in your parish or community, please consider inviting (or sponsoring) them to participate in this Easter retreat with Mariángel Marco Teja. Cost: Online - $90 | Commuter - $180 | Live-in - $250. Please register by April 14. Phone 780-459-5511 or register at www.starofthenorth.ca/resurreccion

Mariángel Marco Teja was born in Spain. She is a nun of the Ursulines of Jesus. Her life has been nourished by long years of living in marginalized neighborhoods and being fully involved in the commitment to human rights (immigration, prisons, marginalization, mental illness). Her last mission before coming to Canada was in Ecuador, in defense of the Amazon and its native peoples. She currently serves as program coordinator for Star of the North Retreat House.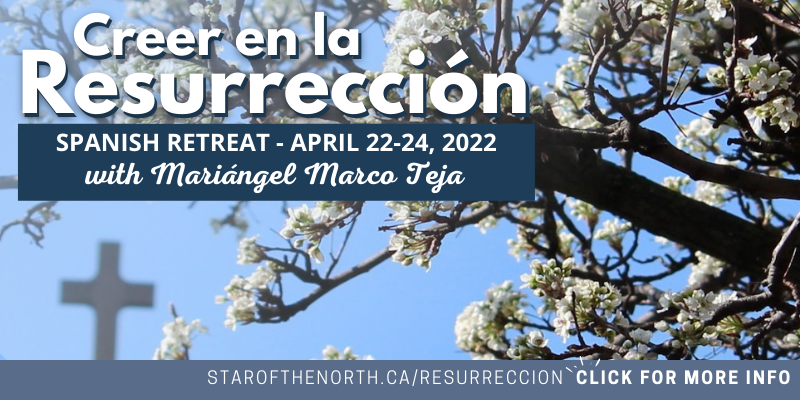 ---
Food & Faith: Discover a Robust Food Ethic in Scripture
The Bible is a book about food. Once you start noticing, references to food are everywhere—in the Creation accounts, the Exodus delivery, Jesus' feeding of the crowds and the Eucharistic meal. In this session we will discover a robust food ethic in scripture. Our relationship to food is complex, and there are moral issues all up and down the food chain—from issues of food production and distribution, to use of the land and water, food security, poverty, and economic justice. Thoughtful reflection may leave us hungry for change in how we grow, buy, eat and think about food.

Saturday, April 30 at 7:00 pm. Open to the public by donation. Phone 780-459-5511 or register at www.starofthenorth.ca/climate-hope
Roy Berkenbosch is the founding director of the Micah Centre and former theology professor at The King's University in Edmonton. Roy has lived in Bangladesh and worked in many parts of the globe; he maintains active involvement with numerous organizations addressing global poverty and hunger.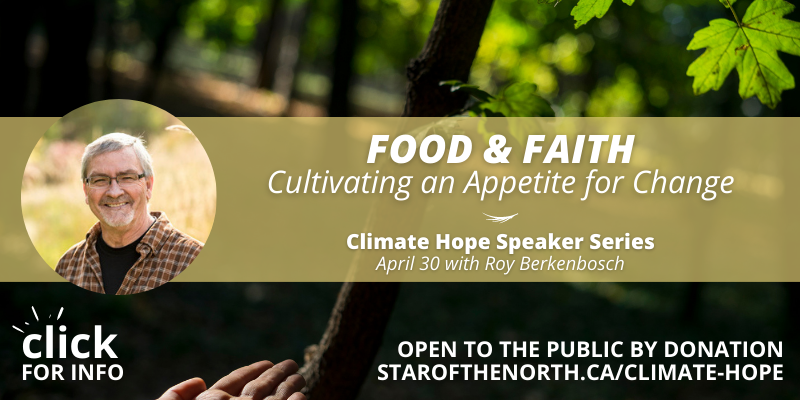 ---
Come Get Your Hands Dirty
Every moment something is at work beneath our feet, affecting our experience of life on the surface: the canopy of a forest, a meadow of wildflowers, a basket of fresh fruits, a world bathed in the greatness of green. Enter into the spiritual practices of planting seeds, practicing presence, watching where you walk, and getting your hands dirty. These outdoor urban gardening evenings will combine ritual and reflection with hands-on good gardening practices and education around issues of creation care, local food security, and ecological sustainability.
Holy Ground: The Spiritual Act of Growing & Sharing Food runs for eight Wednesday evenings, May 4 through June 22, from 6:30 to 8:00 pm. Onsite only | Cost: $120. Phone 780-459-5511 or register at www.starofthenorth.ca/holy-ground

Clint Porritt has 20+ years of faith formation experience through teaching, spiritual direction, and program development. He holds a Master of Theological Studies from Taylor Seminary. He enjoys "making dirt", and is passionate about the intersection of spiritual formation, theology, creation-care, and social justice.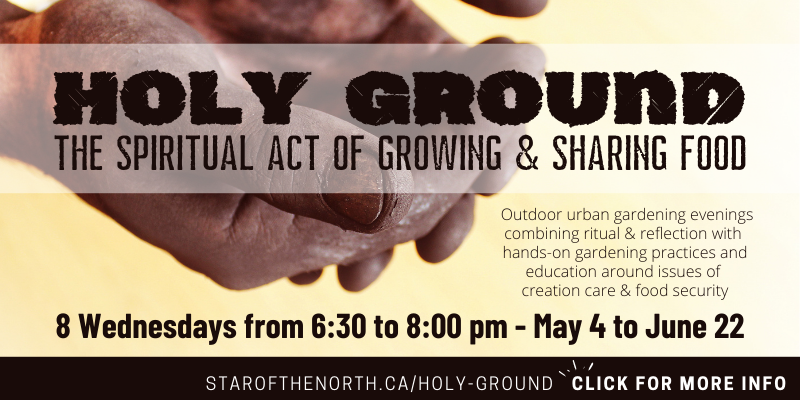 ---
Find Support, Offer Hope
Are you trying to cope as you grieve the death of a loved one? Facilitator Wanda Lehman, B Ed, MRE, has an extensive background in counselling, particularly with families in schools, has experienced deep personal loss herself, and knows first-hand the challenges involved in dealing with the death of someone you love. The purpose of this 8-week support group is to provide a safe environment for those who are bereaved to share your stories, gain support through each other, and learn strategies to assist you in coping with your loss.
Bereavement Support Group, eight Tuesday afternoons, May 10 to June 28 from 1:30 to 3:00 pm. Onsite only | Cost: $120. Phone 780-459-5511 or register at www.starofthenorth.ca/bereavement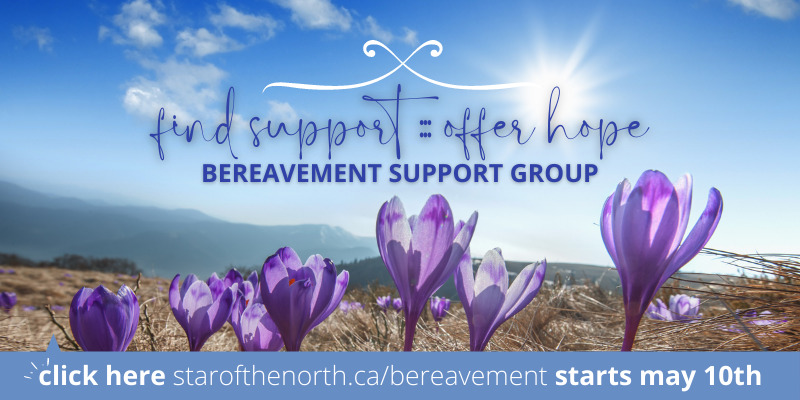 ---
Other Upcoming Programs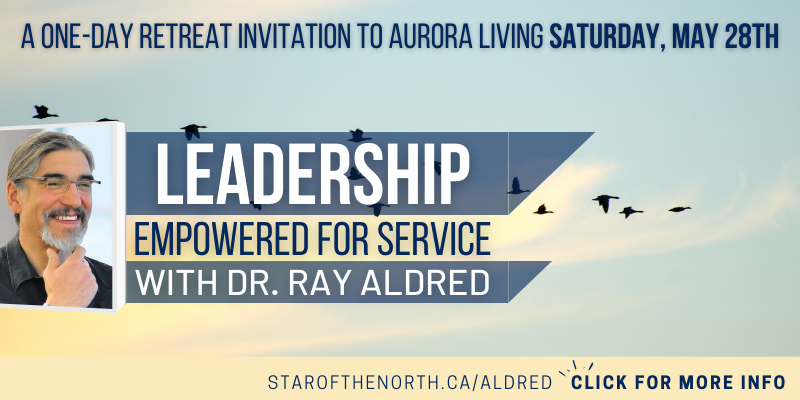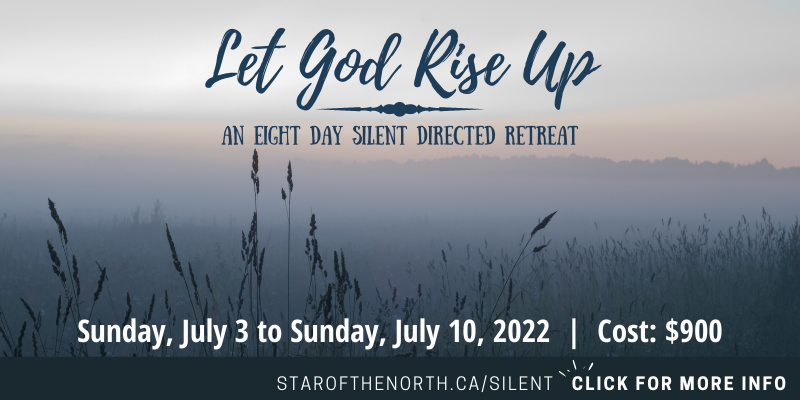 Back to All