Over 100 Registered & Still Room For More!
We are grateful for the responses from across Canada for our upcoming online forum on the Synod in the Continental Phase "Enlarge the Space of Your Tent". Please note that this weekend is your last chance to register—come join us online this coming Tuesday, March 21, 2023 from 6:30 – 8:00 pm MT. This Zoom evening is hosted by The Star of the North Retreat House and sponsored by Centre Oblat – Voice for Justice, and our two other Oblate Retreat Centres, Queen's House Retreat & Renewal Centre, Saskatoon, SK and Galilee Renewal Centre, Arnprior, ON.
Our virtual panel conversation will be moderated by Dr. Carol Kuzmochka, Director and Lead Researcher of the Centre for Religious Education and Catechesis and will feature the following panel presenters:
Archbishop Richard Gagnon of Winnipeg, one of the writers of the Continental Phase document
Father John A. Renken, Oblate Associate and Professor of Canon Law at St. Paul's University, Ottawa
Sr. Susan Scott, educator, Catholic Women's League social advocate, and member of the National Strategic Plan Implementation team
Please take a moment to register at www.starofthenorth.ca/enlarge. We look forward to you joining us as part of this ongoing conversation.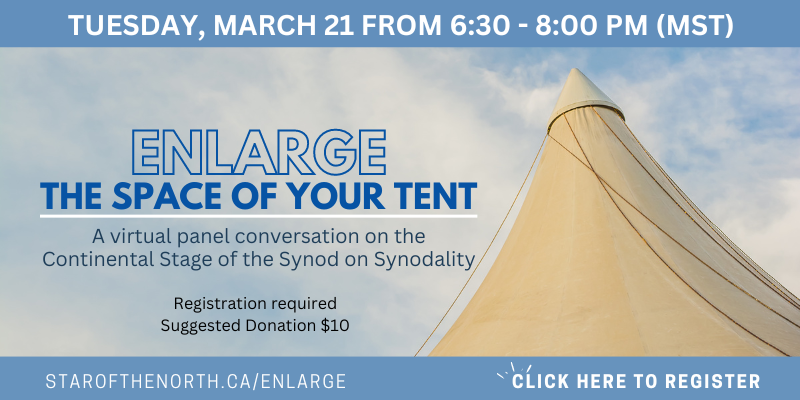 Come Spend a Day with Sr. Teresita
The Star of the North is pleased to welcome Sister Teresita Kambeitz for a one-day retreat on the eve of Holy Week, Saturday, April 1st entitled Rescuing Peter: Jesus & the Unpredictable Disciple. This Lenten retreat will reflect on the interactions between Peter and Jesus, noting how their relationship develops over time and on the graced ways in which Jesus saves impulsive Peter from himself. Peter is us!

Drawing on the teachings of Thomas Merton, Jesus appears to be in the process of awakening Simon Peter to awareness of his "false self" - his facade of defenses and pretenses - and calling forth his "truth" - the inner rock upon which he stands in all honesty before God and others. Peter's awakening is one we all need—don't miss this powerful message! Register at www.starofthenorth.ca/peter or call 780-459-5511.
Sister Teresita Kambeitz works with teachers who are pursuing their Master of Religious Education degree. She also teaches scripture in several adult faith enrichment programs and conducts retreats throughout Saskatchewan and beyond. Her vocation as teacher has been carried out in Swift Current, in Saskatoon at Holy Cross High School and St. Thomas More College, and in Edmonton at Newman Theological College, as well as overseas in summer courses for teachers in the British Virgin Islands, Barbados, Venezuela, Latvia and South Africa. An Ursuline of Prelate, she holds two bachelors' degrees, two masters' degrees, a Ph.D. from the University of Toronto and a degree in piano. She grew up in Richmound, Saskatchewan, in the south-west corner of the province, in a family of two parents, four sisters and four brothers. There are twelve teachers in her family.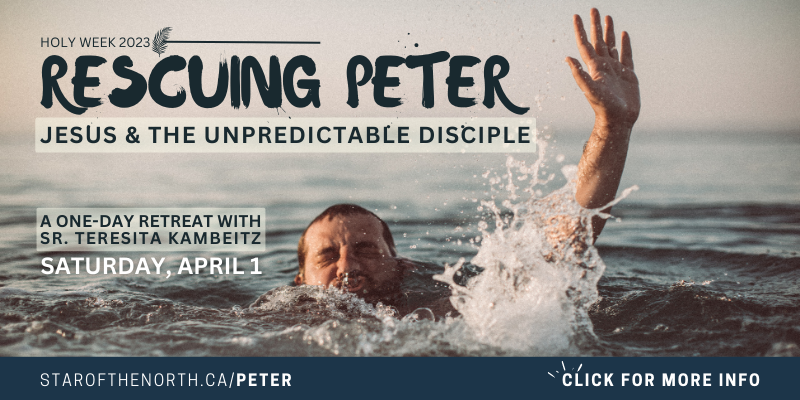 Shane Claiborne is Coming to St. Albert
"We need saints today who can, with compassion, help us to see our blind complicity with systems of all kinds which victimize the vulnerable in order to safeguard our own comfort, security, and historical privilege. We need saints who can speak prophetically for the poor, for the environment, for women, for refugees, for those with inadequate access to medical care and education, and for all who are stigmatized because of race, color, or creed. We need saints, lonely prophets, who can stand as unanimity-minus one, and who can wage peace and who can point our eyes to a reality beyond our own shortsightedness... Among the younger voices whose lives and writings speak as well to a generation younger than mine, I would mention Shane Claiborne..."

— Ron Rolheiser in "Needed: Particular Kinds of Saints"
Shane Claiborne is coming to The Star of the North this April! Join popular speaker, activist and best-selling author for a weekend of stories and reflections on the world of grace and bombs. With tears and laughter, Shane unveils the tragic realities of our fragile world and the incredible hope that "another world is possible." If you can't make the whole weekend, be sure to sign up for the public Friday night lecture.
Shane Claiborne is a prominent speaker, activist, and best-selling author. Shane worked with Mother Teresa in Calcutta, and founded The Simple Way in Philadelphia. He heads up Red Letter Christians, a movement of folks who are committed to living "as if Jesus meant the things he said." Shane is a champion for grace which has led him to jail advocating for the homeless, and to places like Iraq and Afghanistan to stand against war. Now grace fuels his passion to end the death penalty and help stop gun violence.
Shane's books include Jesus for President, Red Letter Revolution, Common Prayer, Follow Me to Freedom, Jesus, Bombs and Ice Cream, Becoming the Answer to Our Prayers, Executing Grace, his classic The Irresistible Revolution, and his newest book, Beating Guns. He has been featured in a number of films including "Another World Is Possible" and "Ordinary Radicals." His books have been translated into more than a dozen languages. Shane speaks over one hundred times a year, nationally and internationally. His work has appeared in Esquire, SPIN, Christianity Today, TIME, and The Wall Street Journal, and he has been on everything from Fox News and Al Jazeera to CNN and NPR. He's given academic lectures at Harvard, Princeton, Liberty, Duke, and Notre Dame.
Shane speaks regularly at denominational gatherings, festivals, and conferences around the globe.
To join us in-person at Star of the North Retreat Centre or online, register at 780-459-5511 or at www.starofthenorth.ca/possible.
Friday Public Lecture: $20 // Weekend Retreat: Online $190 | Commuter $255 | Live-In $395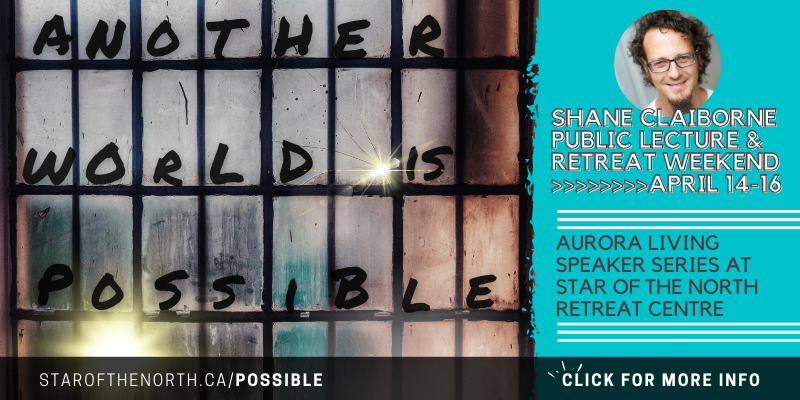 Shane Claiborne appears as part of the spring module of the Aurora Living: Formation Through Word & Creation© program offered by The Star of the North Retreat Centre. The theme of this module is Truth-Telling: Finding Our Prophetic Voice featuring presenters such as Ron Rolheiser, Jennifer Henry, Karyn Gagnon, and Shane Claiborne. To find out more about this program visit www.starofthenorth.ca/truth .
Coping With Loss
Everyone knows someone who is somehow struggling in grief. The purpose of bereavement support groups is to provide a safe environment for those who are bereaved; to share stories, gain support through one other and learn strategies to assist in coping with issues associated with your personal grief journeys. Wanda Lehman is a trained facilitator and educator with an extensive background in counselling. She has taught many grief workshops and ran several bereavement support groups during her career. Wanda has experienced deep personal loss herself and knows first-hand the challenges involved in dealing with the death of someone you love.
Please consider referring a loved one to join this 7-week support group, starting on Tuesday, April 11 from 1:00 - 2:30 pm. Register at www.starofthenorth.ca/bereavement or call 780-459-5511.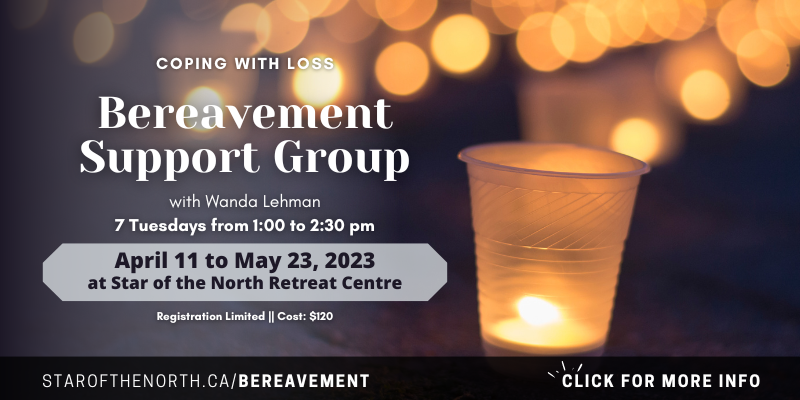 More Formation Opportunities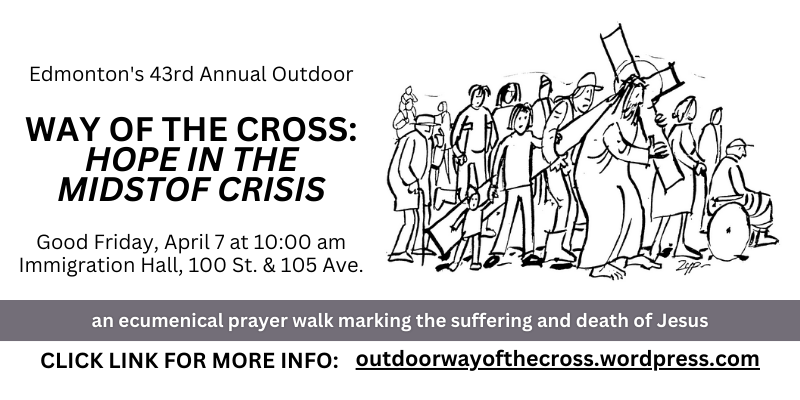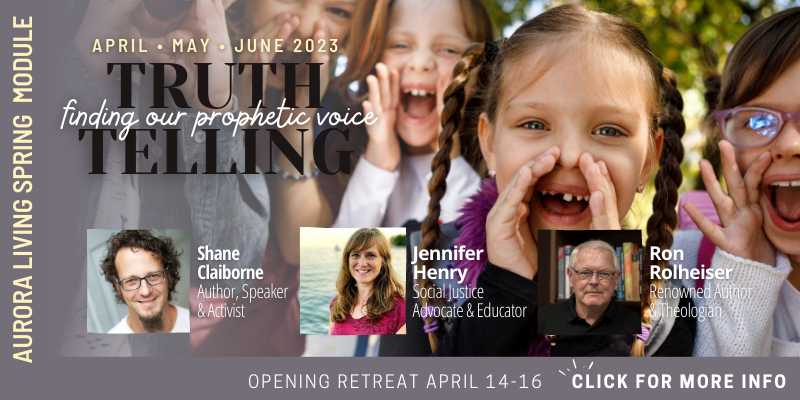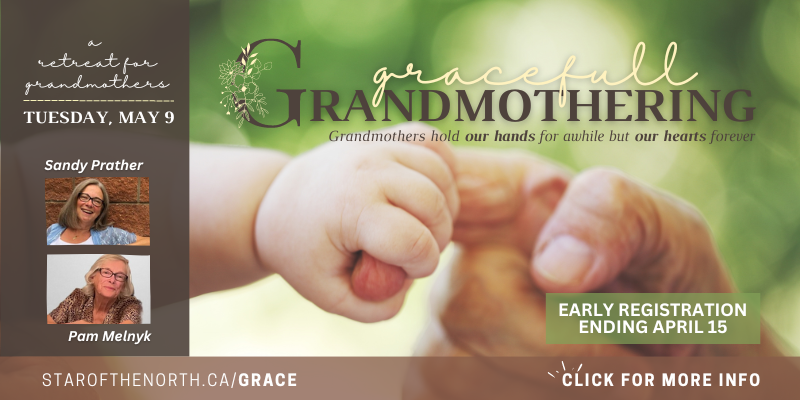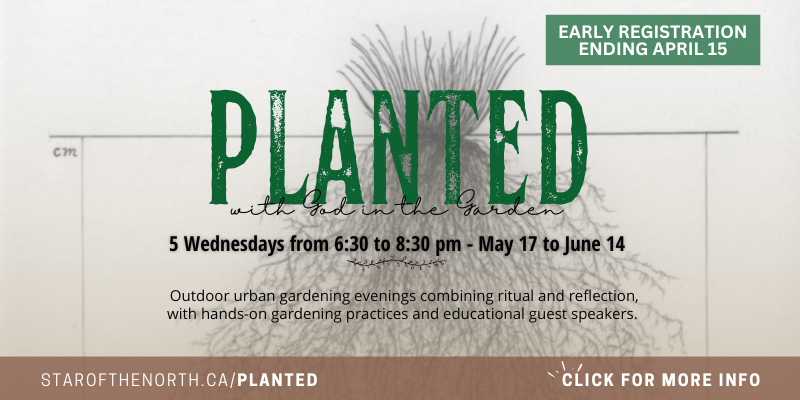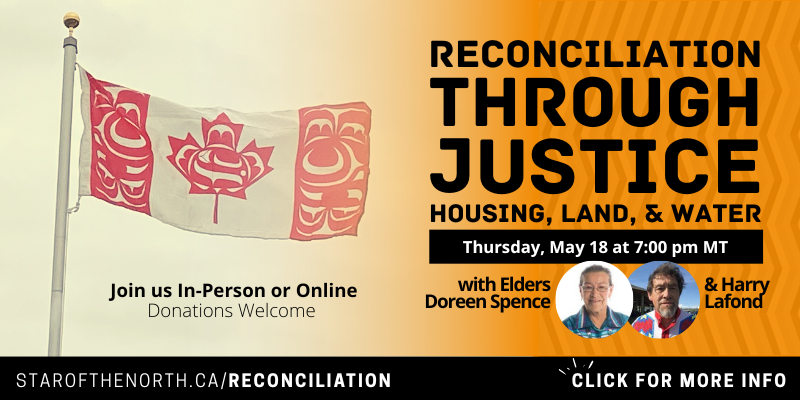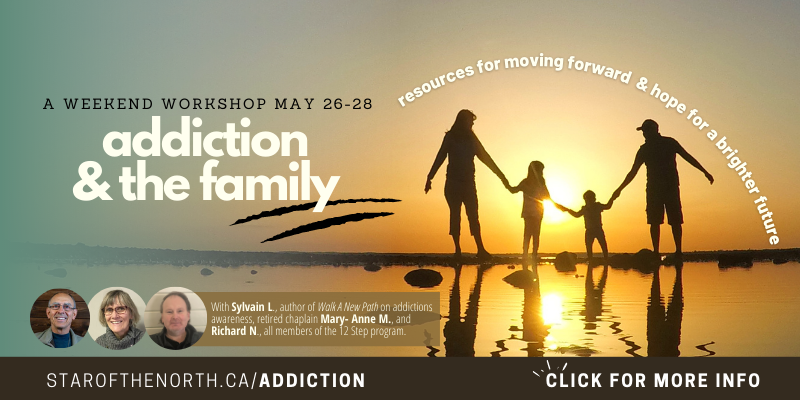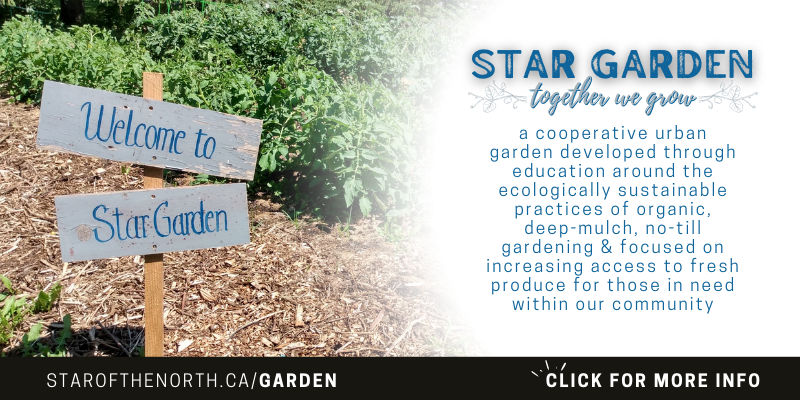 ---



Back to All