Join the Aurora Living Community
Find out more about our Aurora Living spring module, Leadership: Empowered for Service by joining us for a free online information session Tuesday, March 22 at 7:00 pm (MT). Learn more about how the program works and our exciting group of upcoming presenters: Ron Rolheiser OMI, Cheryl Wiskeyjack, Joan Chittister, Dr. Ray Aldred, Joe Gunn, Rohadi Nagassar, Becky Moritz Bonham and more. Register for this information evening at www.starofthenorth.ca/aurora-info or by calling us at 780-459-5511.


Our Aurora Living formation program provides grounding and growing in the Word of God, "Laudato Si" Care for Creation, community building, contemplative prayer, and justice as right relationship. It is informative, formative and transformative, with a focus on spiritual exploration. An inter-faith dimension provides a rich exchange and learning experience about current faith and justice issues, such as the TRC Calls to Action, within a spirit of respectful dialogue. The monthly wisdom circles are an effective way of teaching communal skills of listening, speaking and discerning through personal and intellectual sharing to integrate the rich content of the process. Why not join our spring module to grow personally and spiritually, and be more effectively involved in today's Church and world? Visit www.starofthenorth.ca/leadership Subsidies available upon request.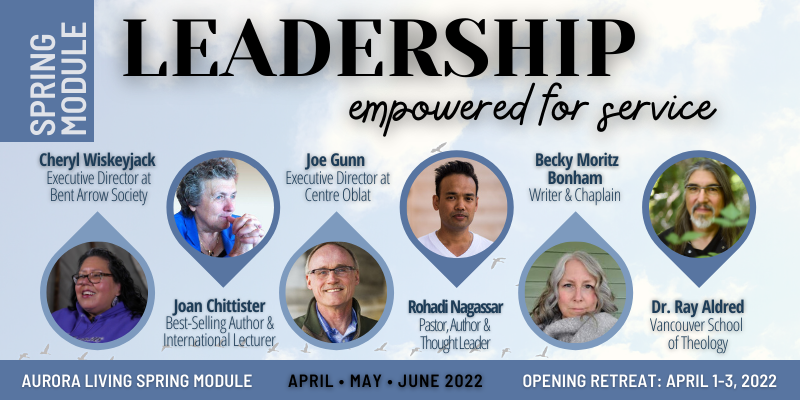 ---
Climate Hope Public Session
We'd love to continue expanding the reach of this important Climate Hope Speaker Series by welcoming new people into the conversation. Please join us online or in-person this Saturday evening, March 19 at 7:00 pm (MT) for a talk entitled Rolling Out Climate Solutions: Technologies and Careers.
The magnitude of the climate crisis is so overwhelming that it sometimes feels like it can never be solved. The good news is that nearly all the technologies needed to address the crisis already exist. How can we deploy these solutions in our society? Learn about the technologies and training needed to supersize the new (clean) industrial revolution. Dr. Jim Sandercock will lay out a technical path toward eliminating our reliance on fossil fuels and highlight emerging jobs and industries which will help us along. Stephen Buhler will talk about what the non-profit organization Iron & Earth is doing to build connections between climate activists and those working in oil and gas industries.

Our event this Saturday will be offered both online and in-person at Star of the North Retreat Centre in St. Albert. If you haven't yet registered, please take a moment to do so here: www.starofthenorth.ca/climate-hope or simply respond to this email and let us know how you will be joining us (in-person or online).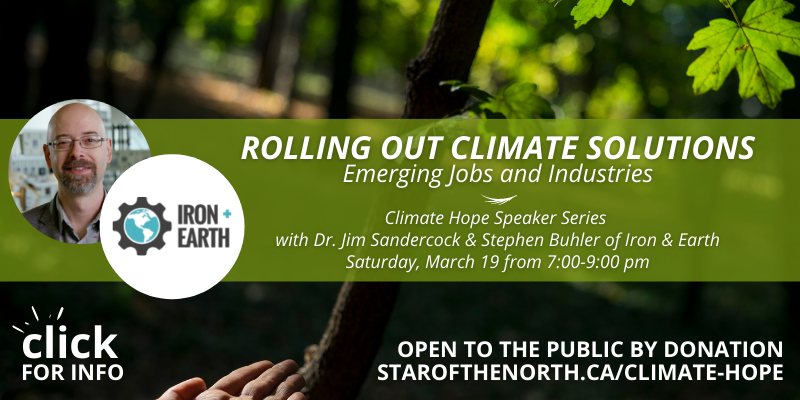 Jim Sandercock, PhD is Chair of Alternative Energy Technologies at NAIT. Jim has worked with other parts of NAIT to create solar upgrading courses for electricians and engineers in Alberta and Cuba. He holds a PhD in Microbiology and Biotechnology from the University of Alberta.

Stephen Buhler has been working in the oil and gas industry as a journeyman machinist for the past 13 years. Always keenly aware that a transition to a net-zero economy was going to be required, he wanted a trade that would give him skills to work on infrastructure both in oil and gas, and renewables. After feeling that a transition to low-carbon energy was not happening with the urgency required, he got involved with grassroots climate organizations in Edmonton, where he used his experience as an oil and gas worker to help build connections between the work of young climate activists and fossil fuel workers. Now he is bringing the energy and passion from his experiences with youth climate organizers to help his fellow fossil fuel workers advocate for the support and investments needed to transition to a low-carbon future. Iron & Earth is a worker-led not-for-profit with a mission to empower fossil fuel industry and Indigenous workers to build and implement climate solutions.
---
Seasons of Our Lives Retreat: Last Call For Registrations
Step away for a weekend to reflect on this season you are in. The Seasons of Our Lives retreat with Debbie Doornbos takes place March 25-27 (from Friday at 7:00 pm to Sunday at 1:00 pm). Why not ask a friend to join you?

Nature is a wonderful teacher. Each season is like a metaphor that can speak deeply to our hearts and to our life experiences. Moving through the seasons of our lives involves a repeating cycle of change, transition, and transformation. Through scripture, poetry, reflection, and time in nature this retreat will invite us to explore our own life's seasons more deeply, and to notice how each season can enrich us, challenge us, and help us draw closer to the God.
Cost Options (subsidies available upon request): Online - $90, Commuter (Sat/Sun lunch), Live-In (includes 2 night stay plus Sat/Sun meals)
Please make plans to register by March 21. You can register through our website at starofthenorth.ca/seasons or by calling us at 780-459-5511.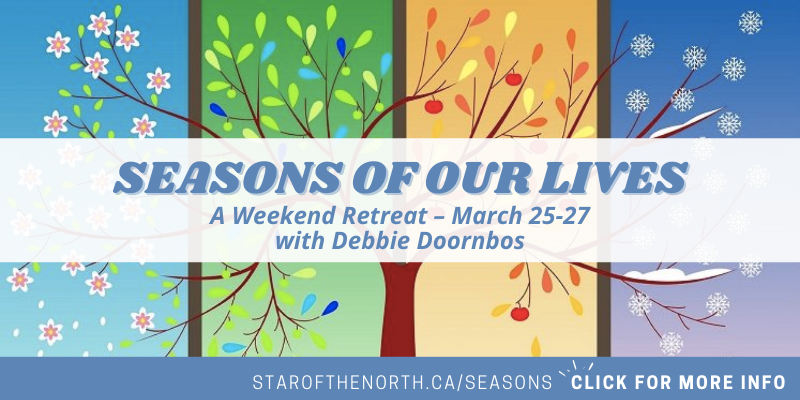 Debbie Doornbos is the Canadian director of the Sacred Art of Living Centre. A graduate of Newman Theological College, and previously the Program Director at Providence Renewal Centre. Debbie is a trained and experienced retreat leader, facilitator and spiritual director with a special interest in journeying with people especially through life's major transitions.
---
Together We Heal with Charles E. Wood
Our fifth Together We Heal session, focused on education around bringing the children home and the challenge facing survivors of residential school today, will be with Charles E. Wood, next Thursday, March 24, 7:00 pm (MT), at the Star of the North Retreat Centre in St. Albert and co-facilitated by Catherine Twinn and Archbishop Emeritus Sylvain Lavoie, OMI. The session will also be live-streamed virtually.
Charles E. Wood is a Cree Elder and former Chief of the Saddle Lake First Nation in Alberta. His successful leadership with Canada's Indigenous Peoples allowed him to work at not only the local level, but also the provincial and national levels. Charles was commissioned by the Chiefs of Canada and is an Elder advisor to the North American Indigenous Games as well as one of the original founders. Presently, Charles is an advisor to First Nations, Indigenous organizations, governments at the local, provincial and federal levels. He was also a former Chair of the Blue Quills University.
The session will involve a presentation, small group sharing and a closing sharing circle with Charles.

These monthly Dialogue Circles serve as an opportunity to participate in decolonizing our hearts and minds while learning to walk humbly with our Creator towards healing and reconciliation. We welcome Indigenous and non-Indigenous to join these sessions, open to anyone interested in listening more attentively to the stories needing to be heard for a renewed relationship to be born; to educate ourselves about our mutual reality and how to create new pathways together.
There is no charge, but donations are welcome. Please register online at www.starofthenorth.ca/listening or by calling 780-459-5511.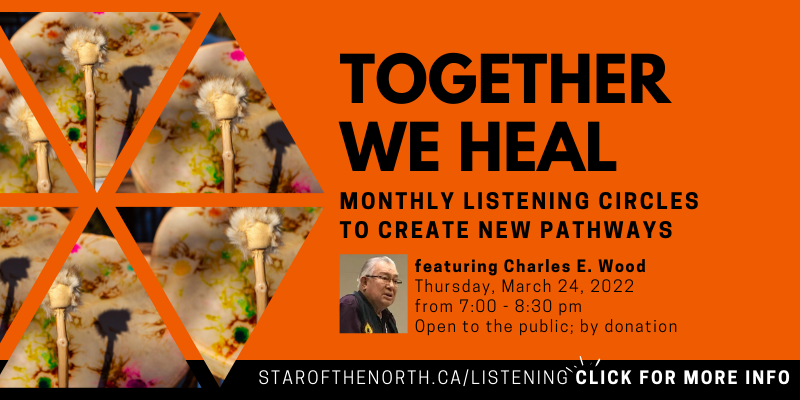 ---

---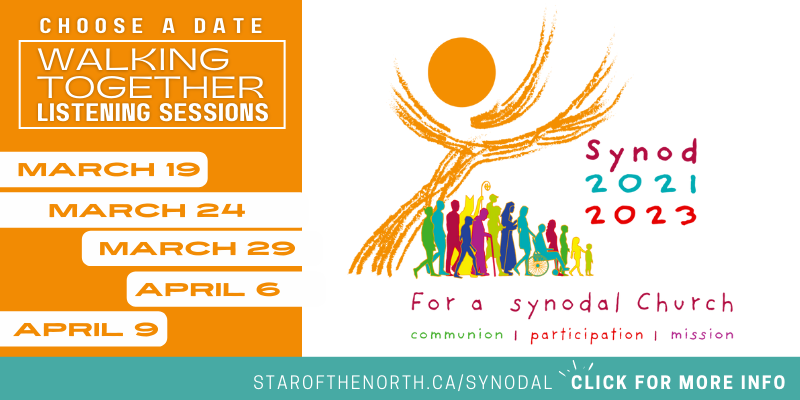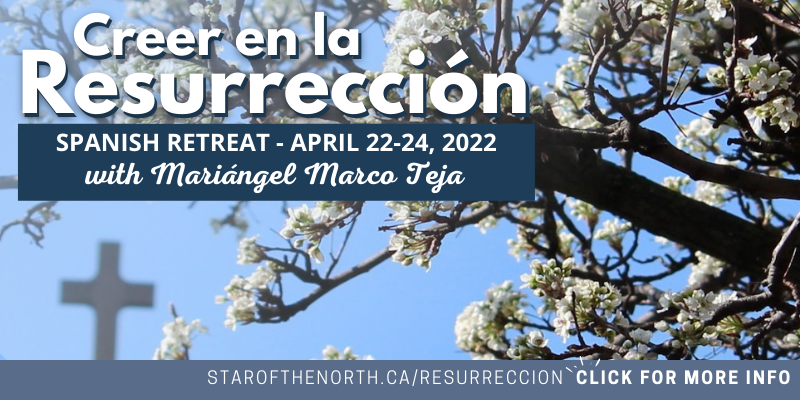 Back to All