Happy New Year!
The Star of the North continues in our mission to offer sacred space that empowers people to to grow in the service of others and the love of the Creator. We hope you'll take a few minutes to look through our upcoming programs and consider starting the new year with a renewed sense of wonder, community and purpose.
Star of the North Retreat Centre seeks to foster a culture of encounter with people and with creation. We do this in our commitment to follow through with the Truth & Reconciliation Calls to Action, and in providing ongoing retreats and programs for Justice, Peace and Integrity of Creation with spiritual seekers from all walks of life.
Aurora Living Continues to Grow
It's hard to believe that we're less than a month away from the beginning of our winter Aurora Living module entitled Wisdom:The Wells We Drink From featuring presenters Ron Rolheiser, Gisele Bauche, Dr. Sean Lessard and Margaret McKeon. If you've been counting, this is our fifth of nine modules--we're past the halfway point! If you haven't yet had the opportunity to be part of an Aurora Living module, either online or in-person, we want to extend an invitation to join us. Find our more at www.starofthenorth.ca/wisdom
Aurora Living provides grounding and growing in the Word of God, "Laudato Si" Care for Creation, community building, contemplative prayer, and justice as right relationship. Aurora Living is informative, formative, and transformative, with a focus on spiritual exploration more than doctrinal orientation. The program provides a rich exchange and learning experience about current faith and justice issues, most significantly the TRC Calls to Action, within a spirit of respectful dialogue. The monthly wisdom circles are proving to be an effective way of teaching communal skills of listening, speaking and discerning through personal and intellectual sharing to integrate the rich content of the process.
Start the new year in this community at the intersection of faith and contemporary issues such as creation care, social justice & reconciliation. Registration for our Aurora Living Winter Module closes Friday, January 13.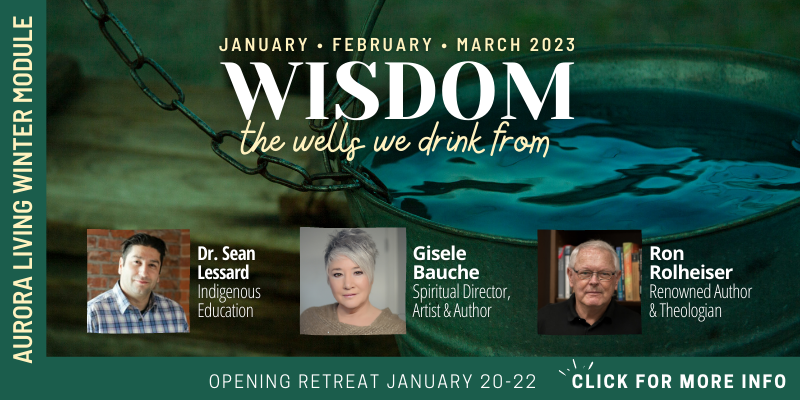 Liturgy & Luncheon: Prayer for Christian Unity
The 2023 theme of the Week of Prayer for Christian Unity is "Do good; seek justice." Isaiah challenged God's people in his day to learn to do good together; to seek justice together, to rescue the oppressed together... The prophet's challenge applies equally to us today. How can we live our unity as Christians so as to confront the evils and injustices of our time?
Join an ecumenical prayer gathering led by Julian and Maria Di Castri followed by a simple fellowship luncheon. Lunch tickets are now on sale for $20 at www.starofthenorth.ca/unity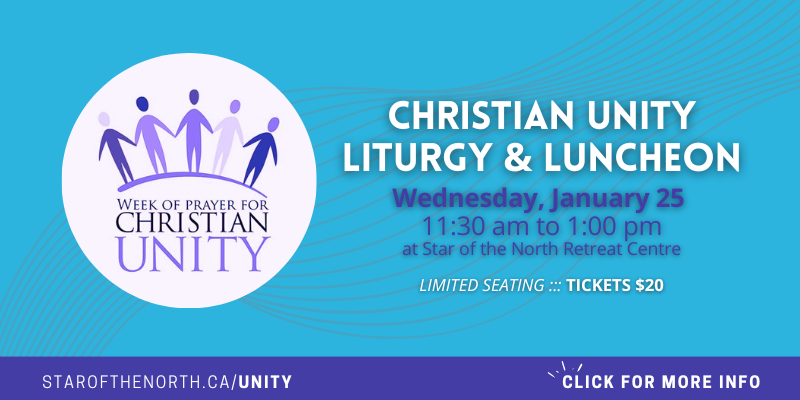 The Teachers in Your Life Need This
"Every profession that attracts people for "reasons of the heart" is a profession in which people and the work they do suffer from losing heart. Like teachers, these people are asking, "How can we take heart again so that we can give heart to others?"— which is why they undertook their work in the first place."

Parker J. Palmer, The Courage to Teach: Exploring the Inner Landscape of a Teacher's Life
In a time when teachers, support staff, and administrators are under growing demands and pressure, Courage to Teach® provides educators with an opportunity to reconnect with the reasons of the heart that lead us to become a teacher in the first place. Through connection with other teachers and most importantly our own inner teacher, we can regain the courage to teach in difficult times. The program, originally conceived by author and educator Parker J. Palmer, offers educators of all kinds an opportunity to reflect on the inner dimensions of teaching and leading with courage in today's world.
Join facilitators Paula Cornell and Witty Sandle for this 5 session Circle of Trust ® series for a monthly morning gathering that holds space for your own reflection, renewal and rejuvenation. Together we will seek to understand, honor, and celebrate brave conversations, deep listening, and reconnection with our love of teaching in community with one another. Teachers, educators, and administrators from all levels and areas of education are welcome, regardless of previous Circle of Trust experience.
1 Saturday morning gathering per month from January - May 2023 from 9:00 am - Noon at The Star of the North Retreat Centre in St. Albert, AB. Find our more at www.starofthenorth.ca/courage
Registration Deadline is January 13, 2023.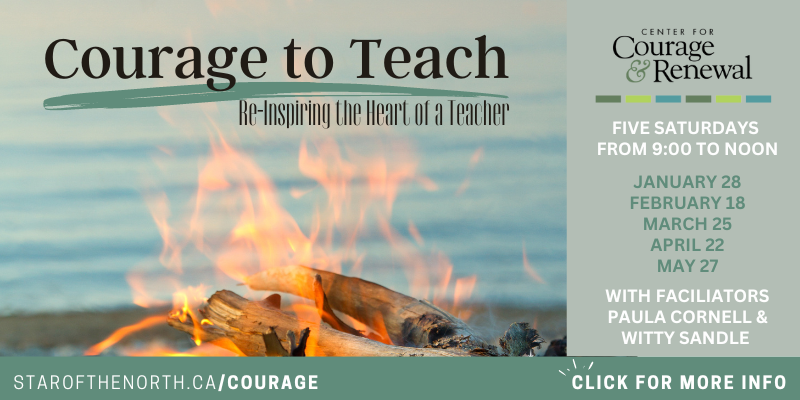 Enlarge the Space of Your Tent: Free Online Event
ENLARGE THE SPACE OF YOUR TENT is the first instalment of a virtual panel conversation on the Continental Stage of the Synod on Synodality on January 31 from 6:30-8:00 pm (EDT).
Join us for an evening exploratory conversation with:
Most Reverend Paul-Andre Durocher, Archbishop of Gatineau, interim chair of "Le Comité porteur du Synode de l'Assemblée des évêques du Québec. «
Sandy Prather, HOMI, Provincial Animator of Oblate Associates
Linda Staudt

, Co-chair of the Diocese of London's Synod Committee and chair and head writer of the Ontario Bishops' Synthesis Committee
As the Synodal process in the Catholic Church moves to the Continental stage of the consultation, many are wondering what will come of all that was generated in stage one and asking "How can the church, at all levels, keep the energy and the conversations and the dialogue going throughout the process?" This three-part virtual conversation will provide an opportunity to learn about the synodal process going forward and to explore ways to stay informed and engaged throughout.
This is part 1 of a series of virtual events to take place across Canada sponsored by Galilee, Centre, Star of the North Retreat Centre, Queen's House Retreat and Renewal Centre and Centre Oblat-A Voice for Justice.
Cost: No cost, registration is required. Click here to register online, or call 613-623-4242 ext. 21.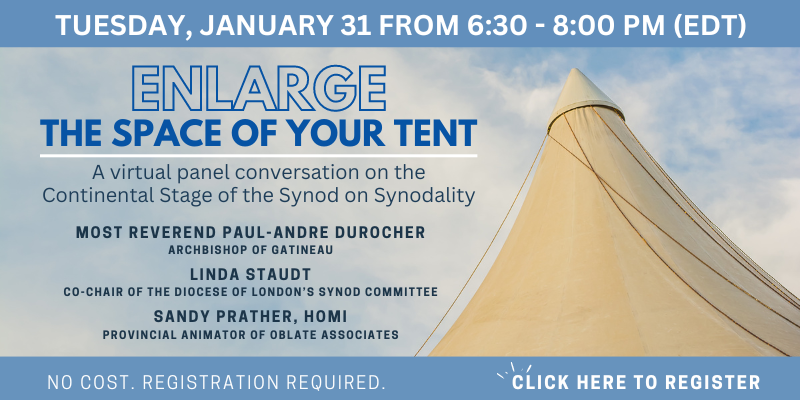 Bridges: Become a Contemplative
Bridges to Contemplative Living with Thomas Merton is a small group experience that invites people into contemplative dialogue. The course is based on a series of booklets edited by Jonathan Montaldo and Robert G. Toth of the Merton Institute for Contemplative Living. The texts explore aspects of contemplation and the meaning of contemplative living. Each week a text from Thomas Merton is read and discussed. Short writings from other wisdom figures of both Christian and non-Christian disciplines are also studied.
This series gently leads participants on a journey toward personal spiritual transformation and a more contemplative and peace-filled life. Each eight-session booklet offers an introduction to Merton and contemplative living through prayers, readings from Merton and other spiritual masters, and questions for small group dialogue. Find our more at www.starofthenorth.ca/bridges
February 01 - Introduction
February 08 – Living Joyfully in the Present Moment
February 15 – The Joy of Being Human
February 22 – Waiting for Joy through Sorrow and Anguish
March 01 – Living together with Wisdom
March 08 – A Joy that Tastes God
March 15 – The Joy of Doing God's Will
March 22 – Being Grateful That God is Who God Is
March 29 – God's Joyful Cosmic Dance
FACILITATOR:
Anita Allsopp has studied theology at Newman Theological College and the Oblate School of Theology in San Antonio and social work at the University of Calgary. In the past she has been active in parish ministry, retreat facilitation and supporting women in need. Today, she lives a contemplative lifestyle.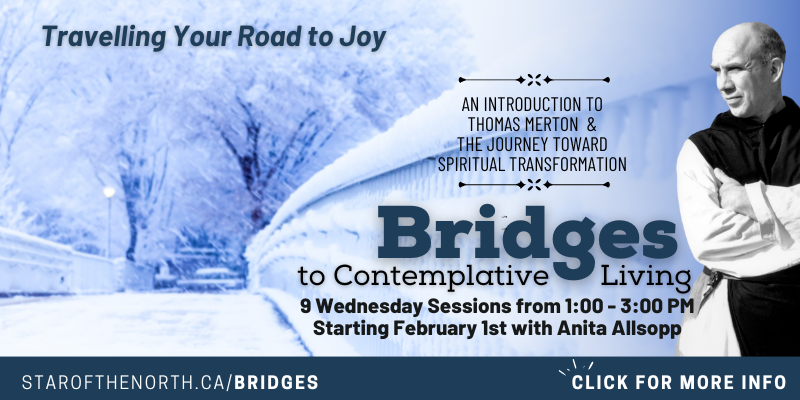 Reconciliation Through Justice: Water
Reconciliation Through Justice: Water is a continuation of the well-received 2021/22 Together We Heal series, moving us toward action. For former TRC commissioner Chief Willie Littlechild, reconciliation follows a process of truth-telling, healing, forgiveness, and justice. Others would say an apology only takes on meaning when there is action. This three-session series entitled Reconciliation Through Justice will focus on the issues of housing, water and land. We welcome elders Fred and Melanie Campiou on Thursday evening, February 16 at 7:00 pm MT to speak to us on the issues surrounding water.

To join us in-person at Star of the North Retreat Centre or online, register at 780-459-5511 or at www.starofthenorth.ca/reconciliation to join us. Donations are welcome.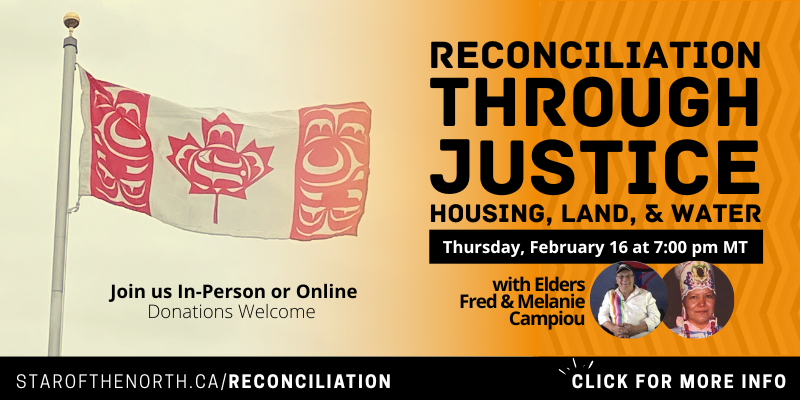 Melanie Dreaver-Campiou is from Treaty 6 territory in Big River First Nation, Saskatchewan. Melanie's early education consisted of Indigenous teachings and Indigenous law, and holds bachelor's degree in Native Studies from University of Saskatchewan. Melanie dedicated many years of her life working within the judicial system as a strong advocate for justice for Indigenous inmates, their empowerment and healing. Today, Melanie provides support as an elder to the children in care by introducing Indigenous culture and Native Spirituality. Melanie is a proud mother and a grandmother.
Fred Campiou is an elder from Driftpile First Nation in Treaty 8 territory. His most influential teachers and mentors were his grandfather, mother (Rose Auger), and William Dreaver who all have influenced his spiritual and ceremonial teachings, morals, and values. Today Fred carries several spiritual ceremonial lodges such as Sioux Yuipi ceremony, Sundance ceremony, Horse Dance lodge, Cree sweat lodge, and Buffalo Robe healing ceremony with Women's teachings. Fred is the carrier of the Purple Spirit bundle. He holds these ancient ceremonies for the purpose of teaching, healing, and empowerment. He is knowledgeable about his own Cree/Algonquin lineage as well as the treaty between the Crown and the First Nation People.
---

Back to All