Star Gazer: Garden Edition
Our Urban Gardening Project
The Star of the North is developing a urban garden focused on increasing access to fresh produce for those in need within our community. While some of the harvest will be used by our kitchen, we hope to distribute much of the produce through local organizations. We are excited to share further details through this newsletter—including ways you can get involved—as our plans develop.

Here's where you can help: we want your yard waste! This development will implement organic (mulch-based), no-till gardening practices focused on high-density yields. To that end, we need extremely large quantities of organics. We are asking those in our community for their help in collecting the following organics, in any condition of decay:

Flattened brown corrugated cardboard; bigger the better (no glossy, colour printed material)


Leaves and grass clippings (pesticide free)

Wood chips (all types)

Logs or large branches up to 4 feet in length (preferably deciduous such as alders, apple, birch, poplar, willow, etc.)

Straw or hay bales (in any condition)

Manure and/or compost
Thank you for your help in getting this project off the ground! Bagged yard waste from your spring clean-up (leaves, grass clippings, etc.) and cardboard can be dropped off anytime at Star of the North in the NW alcove area by the chapel. To arrange for larger deliveries of wood chips, logs, bales or manure please contact Clint Porritt at 780-459-5511 or programs@starofthenorth.ca
Interested in partnering in this project as a volunteer? Please take a minute to sign up on our volunteer list at https://forms.gle/z2DS6U75p2w6vprc7
---
Food & Faith: Cultivating an Appetite for Change

Join the final gathering of our Climate Hope Speaker Series on Saturday, April 30 at 7:00 pm (MT): Food & Faith: Cultivating an Appetite for Change. Our guest speaker, Roy Berkenbosch is an engaging speaker, the founding director of the Micah Centre and former theology professor at The King's University in Edmonton. Roy has lived in Bangladesh and worked in many parts of the globe; he maintains active involvement with numerous organizations addressing global poverty and hunger.
We don't often think of the Bible as a book about food, but once you start noticing, references to food are everywhere – in the Creation accounts, the Exodus delivery, the prophetic anticipations of Messianic banquets Jesus' feeding of the crowds and the Eucharistic meal. Not to mention that the Bible is drenched in wine! In this session we will discover a robust food ethic in scripture. Our relationship to food is complex and multifaceted, and there are moral issues all up and down the food chain, so to speak—issues of food production, processing and distribution, food and the land and water; how we think about and consume food and the implications of that for neighbours, both nearby and far away. Issues of food security, poverty and economic justice. Thoughtful reflection (food for thought?) may leave us hungry for change in how we grow, buy, eat and think about food.
This public, pay-what-you-can event will be offered both online and in-person at Star of the North Retreat Centre in St. Albert. Please register at www.starofthenorth.ca/climate-hope or call 780-459-5511.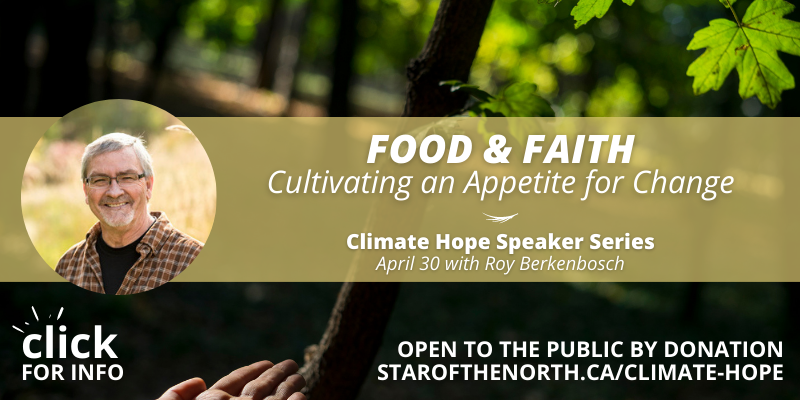 ---
Holy Ground: The Spiritual Act of Growing & Sharing Food
Join us Wednesday evenings from 6:30 - 8:00 pm and enter into the spiritual practices of planting seeds, practicing presence, watching where you walk, and getting your hands dirty. Facilitated by Clint Porritt, these outdoor urban gardening evenings will combine ritual and reflection with hands-on good gardening practices and education around issues of creation care, local food security, and ecological sustainability.

Clint Porritt has 20+ years of faith formation experience through teaching, spiritual direction, and program development. He holds a Master of Theological Studies from Taylor Seminary. In his spare time he enjoys feeding worms, raising hens, "making dirt", and almost anything outdoors. Clint is passionate about the intersection of spiritual formation, theology, creation-care, and social justice.
Please register by April 30 at www.starofthenorth.ca/holy-ground or call 780-459-5511. Cost $120.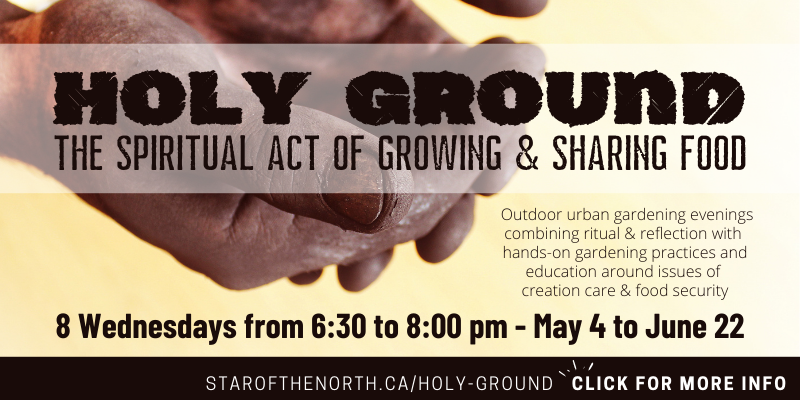 ---
Grief Support Starting May 10
Do you know of someone struggling in the face of personal loss? Join Wanda Lehman in a safe environment for those who are bereaved; to share stories, gain support through one another, and learn strategies to assist with issues with your personal grief journey. 8 Tuesdays from 1:30 to 3:00 pm, May 10 to June 28. Cost: $120. Phone 780-459-5511 or register at www.starofthenorth.ca/bereavement.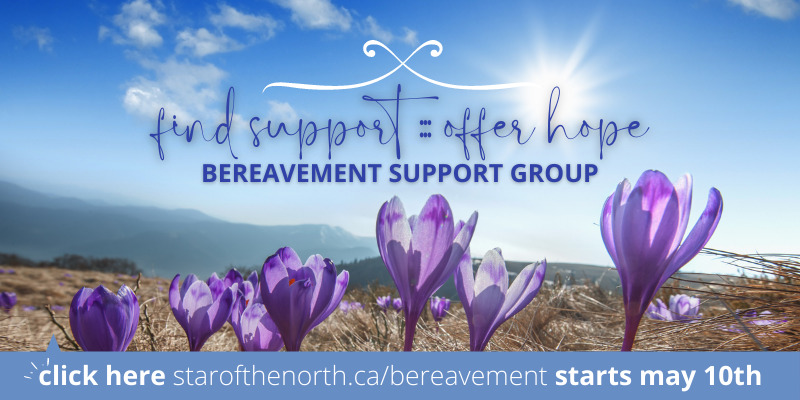 ---
Get a Taste of Aurora Living
It's mid-April and we're well into our third module of Aurora Living: Formation Through Word & Creation © with a current group of 15 participants. As momentum within the program builds, we've had curious folks asking in one form or another: So what exactly is Aurora Living?
We get it. It's hard to explain a program that is seeking to integrate an engagement with scripture and creation, with communion, contemplative living, and Christ's call to justice. Aurora Living is one of the things that's easier experienced than explained. So we've set out to offer a one-day retreat invitation to the general public—to come participate in a slice of the Aurora Living experience with very special guest Dr. Ray Aldred.
What kind of leader was Jesus and how is he leading us in this historical moment?
What kind of leaders do each of us need to become in order to contribute to the flourishing of the world?
Dr. Ray Aldred is a gifted speaker and director of the Indigenous Studies Program at the Vancouver School of Theology. Will you join us for a unique look at leadership in a time of important social change? We'd love to have you. Saturday, May 28 from 9:00 am to 5 pm at Star of the North. Cost: Online $90; In-Person $120. Phone 780-459-5511 or register at www.starofthenorth.ca/aldred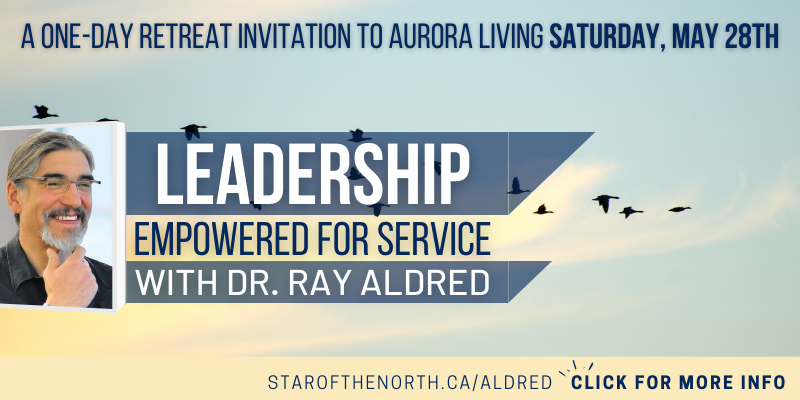 ---

Back to All