---
The Papal Visit to Canada:
Indigenous Hopes & Catholic Responses
The Oblates of Mary Immaculate administered 48 Indian Residential Schools throughout Canada and apologized for this role in 1991. With the more recent apologies of the Catholic Bishops as well as Pope Francis, and the likelihood of a papal visit in summer 2022, how might we move forward to "live into" the spirit of these apologies for reconciliation and better relations with Indigenous peoples?

The Star of the North Retreat House - Galilee Centre
Centre Oblat/Oblate Centre Voice for Justice

presents
An Oblates of Mary Immaculate of Canada Initiative
Panel Presentation with: Archbishop Emeritus Sylvain Lavoie, OMI, Harry Lafond, Catherine Twinn
Moderated by Lucie Leduc
May 18, 2022 6 - 7:30pm MT / 8 - 9:30pm ET
Hybrid Event - Zoom and On-Site at The Star of the North

Register at www.starofthenorth.ca/visit or call 780-459-5511


---
Together We Heal: Closing Circle on May 19
With over 100 participants over the course of this series, these monthly Dialogue Circles have served as an opportunity to participate in decolonizing our hearts and minds while learning to walk humbly with our Creator towards healing and reconciliation. We welcome Indigenous and non-Indigenous to our final session of this series, open to anyone interested in listening more attentively to the stories needing to be heard for a renewed relationship to be born; to educate ourselves about our mutual reality and how to create new pathways together.

Featuring multiple presenters including: Charles E. Wood, Georgina Lightning, Lewis Cardinal, Gary Gagnon, and more
Co-Facilitated by Catherine Twinn and Archbishop Emeritus Sylvain Lavoie, OMI
Our seventh and final session is scheduled for Thursday, May 19, 7:00 pm (MT), at the Star of the North Retreat Centre in St. Albert. The session will also be live-streamed virtually. We have invited all presenters from this series to rejoin us for a special sharing circle. The session will involve 5-minute presentations from each speaker followed by wider sharing. There is no charge, but donations are welcome.
Please register online at www.starofthenorth.ca/listening or by calling 780-459-5511.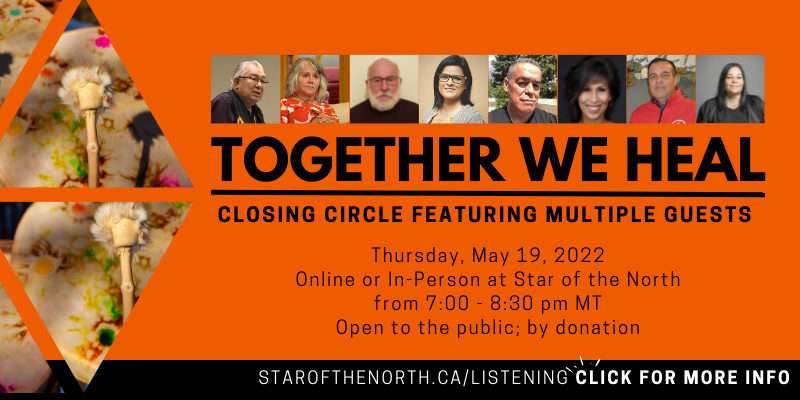 ---
A One-Day Retreat with Dr. Ray Aldred
On Saturday, May 28th, well-known speaker and director of the Indigenous Studies Program at the Vancouver School of Theology, Dr. Ray Aldred will joining us in-person to present on the topic of Leadership: Empowered for Service. This one-day leadership retreat is a wonderful opportunity for both individuals and ministry teams to grow in pondering these important questions:
How am I a leader? What does leadership look like in a time of important social change?
What kind of leader was Jesus and how is he leading us in this historical moment?
How do we speak hard-truths? How do we stay engaged in the work, yet avoid burnout/despair, etc.?
What kind of leaders do each of us need to become in order to contribute to the flourishing of the world?
The retreat runs for 4 sessions from 9:00 am to 5:00 pm MT, both online and in-person, with an extended break in the afternoon to allow time for rest & reflection. For in-person participants, lunch and snacks are included in your registration. The cost for online participants is $90; for in-house participants $120. Teams of 5 or more receive one registration free. Would you take a few minutes to consider registering for this event and forwarding it to developing leaders within your work or congregation? You can register through our website at www.starofthenorth.ca/aldred or by calling us at 780-459-5511.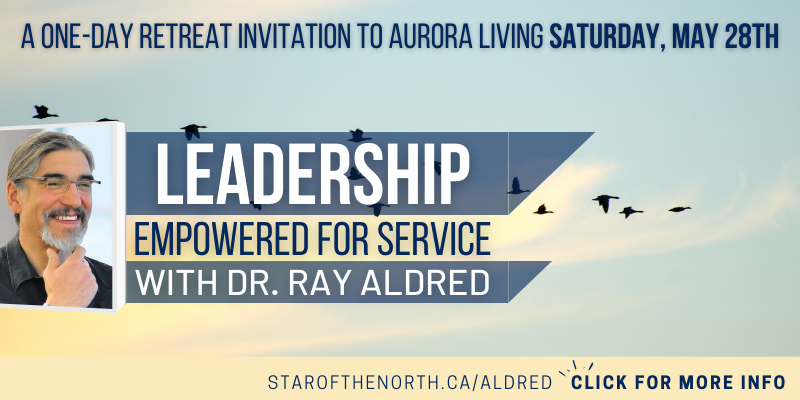 ---
Come Celebrate With Us!
June 18th marks the last day of Aurora Living Year 1 and we are gathering mark this milestone occasion with celebration! We invite the public to join us for a Saturday afternoon featuring an exclusive video presentation by Sr. Joan Chittister on Frattelli Tutti, a time of discussion, and a powerful ritual and ceremony followed by a celebration dinner. Limited dinner tickets available, so register early . We look forward to celebrating together!

Schedule:
2:30 pm (MT) Aurora Living Video Presentation by Joan Chittister
4:30 pm (MT) Aurora Living Year 1 Closing Ritual & Ceremony
5:30 pm (MT) Celebration and Dinner
Registration starofthenorth.ca/celebrate or call 780-459-5511):
Early-Bird Online (by June 1) - $25
Regular Online (after June 1) - $40
In-Person with Dinner Ticket - $60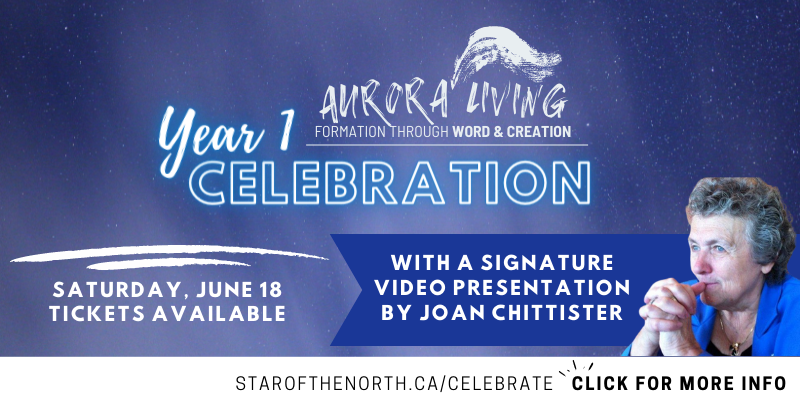 ---
Walk With Us - Star Camino 2022
Welcome to the Star of the North Camino/Estrella del Norte 2022
Walk Where You are or join us to walk in Support of the Star!

Join us June 25th, from 8:30 am to noon with lunch provided after our walk
The word 'camino' in Spanish means 'path' or 'way'. Spain is known for its famous "Camino del Norte" which welcomes thousands of pilgrims every year for an over 500 mile pilgrimage where spiritual seekers from around the world walk as a way of prayer and penance for their needs or the needs of others and the world. They walk to grow closer in relationship with God.
This year we invite you to join us on your choice of one of three local paths beginning from The Star of the North on Saturday, June 25th. Or chose a time on Saturday or Sunday and walk where you are, in your neighborhood or in an area of sacred nature you'd like to explore.
Walk a spiritual pilgrimage in support of the Star's ministries of spiritual renewal through programs and hospitality on the pilgrim path. St. Augustine is quoted as saying, "It is solved by walking." Make your Camino intentional as a way to pray for an end to the war in Ukraine, for peace in our world, for immigrants and refugees, for our own hearts conversions, and to commune with nature, become more aware of our environment's needs, and to ultimately draw closer to God.
Register to walk through starofthenorth.ca/star-camino ($50 individual/$80 for family) to create your camino, set a fundraising goal, and begin your pilgrimage in support of the Star!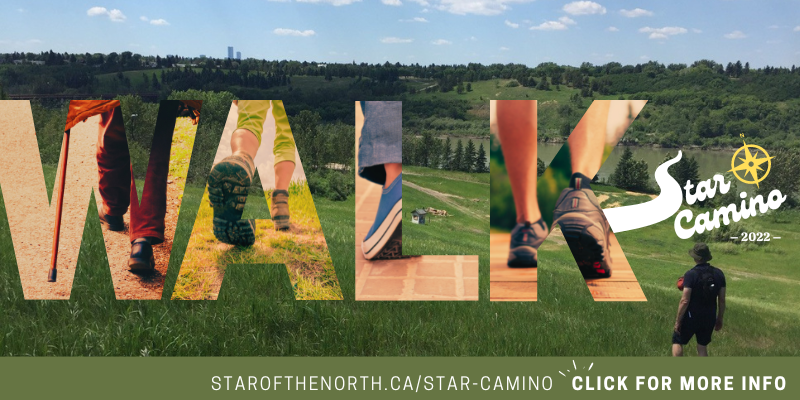 ---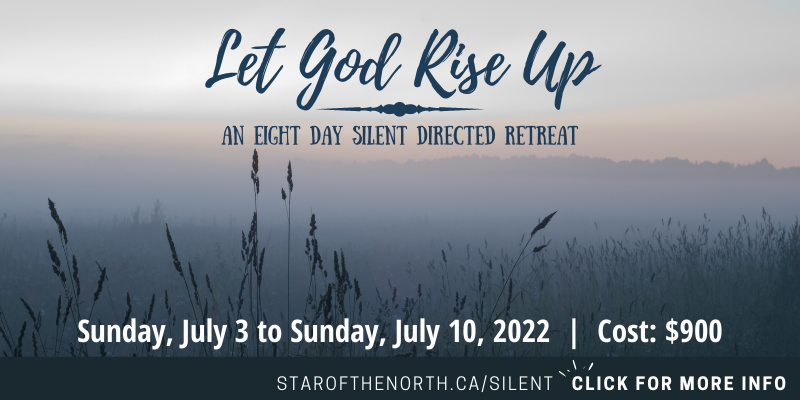 Back to All