Join Aurora Living this Fall

Our fall Auora Living module is entitled Psalms: Singing Joy & Lament. Psalms are songs raised to our Creator expressing the whole range of human emotion and experience! Here people find comfort and the hope of transformation. The soul speaks in song, in poetry, in art.
A joy is not truly a joy if we cannot communicate it, increase it, express it, sing it in some way, make it come out of us so that it embellishes the world itself. Suffering, too, needs to be expressed. When suffering is worked through, it becomes a work of art. Creativity often requires a lack, a wound, an emptiness. Songs help to live pain in a healthy way.
For some, artistic expression is also the most sacred expression of relationship with God. Singing and dancing, among Indigenous peoples are a reverential expression towards transcendence, an expression of deep connection with it.
The book of Psalms embraces our emotions, giving us words to express ourselves to God in the most diverse moments of life.
FEATURED PRESENTERS:
Steve Bell is a songwriter, storyteller, and troubadour for our time. Over the course of a 30 year solo career, he has been sharing a message of love, hope and faith through songs, stories, and writings. He is a purveyor of truth and beauty and champion of kindness, on a focused mission for "refreshing Christian faith and spiritual tradition for the weary and the wary." He is a mentor to many, and an advocate of numerous meaningful causes. www.stevebell.com
Margaret McKeon is an outdoor educator, a poet and a sessional lecturer at St. Mary's University in Calgary. She is working toward publishing her PhD research as a book. In this work, as a settler person of Irish and German ancestry, she considers relationships with land, ancestral knowledges and colonialism through story and poetry. This research builds on professional work coordinating an outdoor education program in Western Newfoundland as it transformed to also be a strong Mi'kmaw cultural education program, and Masters studies that theorized on this weaving process of "indigenization." She lives in Canmore with her partner.
Ron Rolheiser is an internationally-known author, retreat leader and spiritual theologian. His book, Sacred Fire: A Vision for Deeper Human and Christian Maturity was awarded Book of the Year and Best Book in Spirituality at the the Catholic Book Awards in 2015. He is a former professor at Newman Theological College in Edmonton, Alberta and past-president of the Oblate School of Spirituality in San Antonio, Texas. www.ronrolheiser.com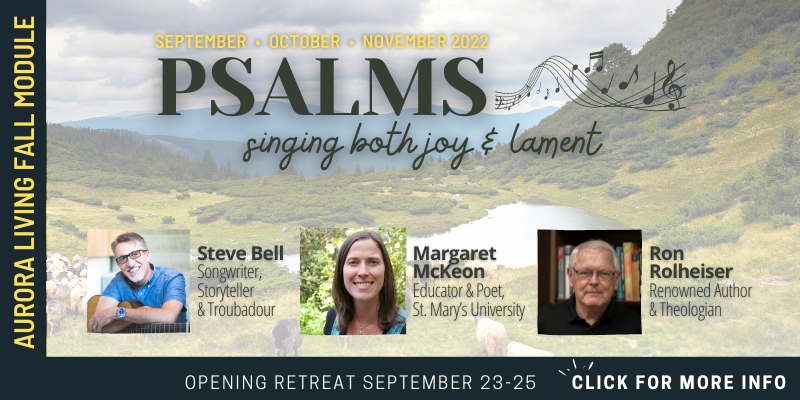 DATES & SCHEDULE
September 23-25, 2022 — Opening Retreat — Psalms Concert and Retreat with Steve Bell
October 22, 2022 — Saturday Mid-Gathering — Confluence, Flow, and Fire Workshop with Margaret McKeon
November 19, 2022 — Saturday Final Gathering — "Sacred Permission to be Human" with Fr. Ron Rolheiser

TUITION OPTIONS
Early-bird registration ends September 1, 2022. Group discounts available. All pricing in CAN funds.
Online (via Zoom) — Early-Bird $550 | Regular $650
Commuter — Early-Bird $700 | Regular $800
Live-In — Early-Bird $875 | Regular $975
---
Celebrate the Season of Creation
Star of the North is pleased to partner with Laudato Si' Movement Canada to bring you a special evening of celebration and ritual welcoming in the season of creation. Make plans now to join us on September 1st!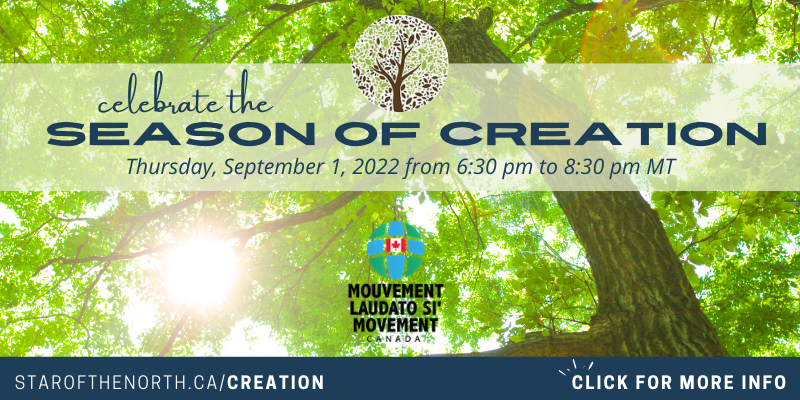 ---
Save Up to 20% of Star Programs
We are excited to bring you a full line-up of exciting new programs for this fall. Register before September 1st to take advantage of our summer discount initiative: not only will you get ahead of the game, you can save up to 20% off! Take a minute to jump to our website and browse starofthenorth.ca/programs or click on events of interest below.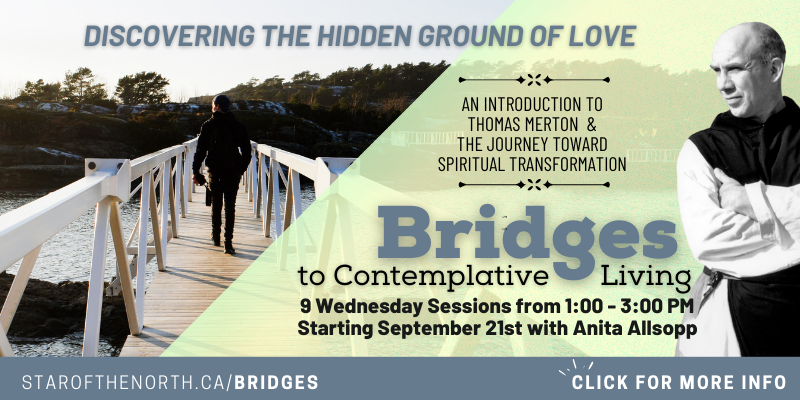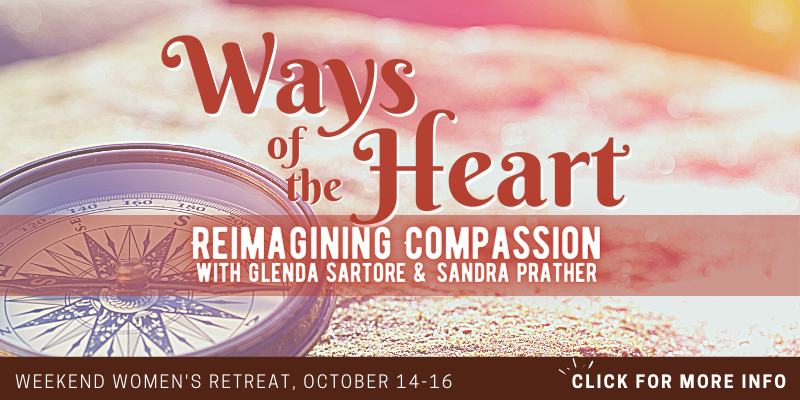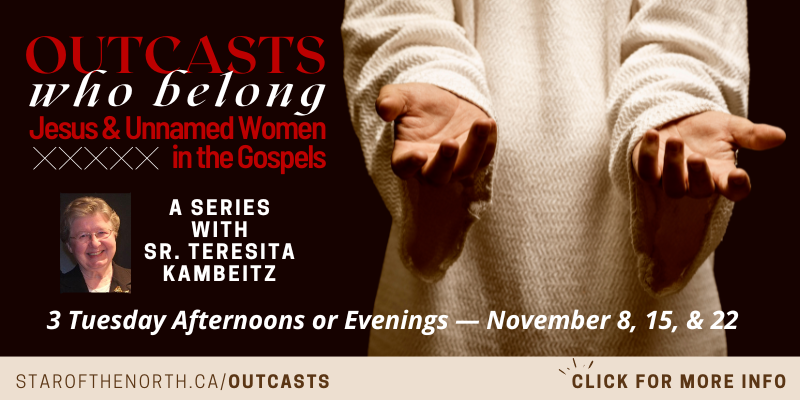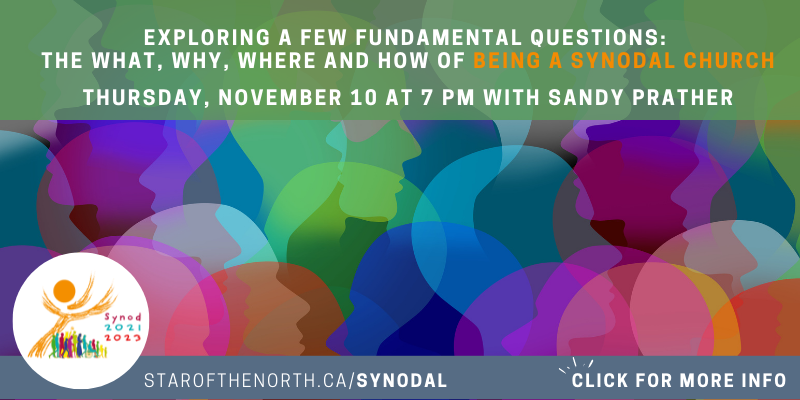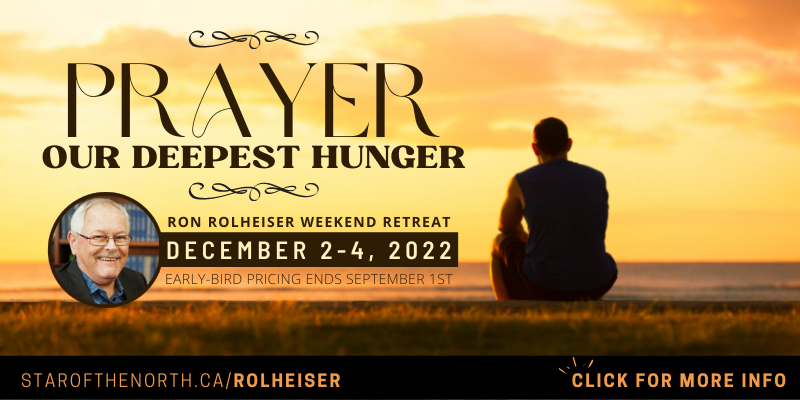 ---
In the Moment: Self-Guided Retreats in English, French, & Spanish

In line with Star of the North's mission and vision, "Awakening the Spirit, Transforming the World", we are expanding our programs to include monthly retreat offerings through pre-recorded videos. This new initiative is called In the Moment: Self-Guided Retreats.
Our vision is to offer monthly videos through Vimeo, that subscribers can follow from their own homes and on their own schedule, with the aim of awakening awareness of the divine presence and inspiring deeper faith commitment.
Our mission is to facilitate spiritual reflection that nurtures and invites personal times of prayer and interiorization. We hope the monthly regularity of this program will lead to a personal habit of spiritual self-care.
Culture and language play an important role in accessing our faith life. For this reason, we are offering In the Moment retreats in three languages: English, French and Spanish. We have gathered a host of facilitators and themes for your to choose from. This year we will offer a total of nine videos in each language, available as quarterly subscriptions (3 videos) or as a yearly subscription (all 9 videos) at a considerable discount. Each month, from October 2022 through to June 2023, we will release a video with your subscription in your preferred language.
For full information on In the Moment: Self-Directed Retreats
In English, visit: starofthenorth.ca/moment
In French, visit: starofthenorth.ca/present
In Spanish, visit: starofthenorth.ca/momento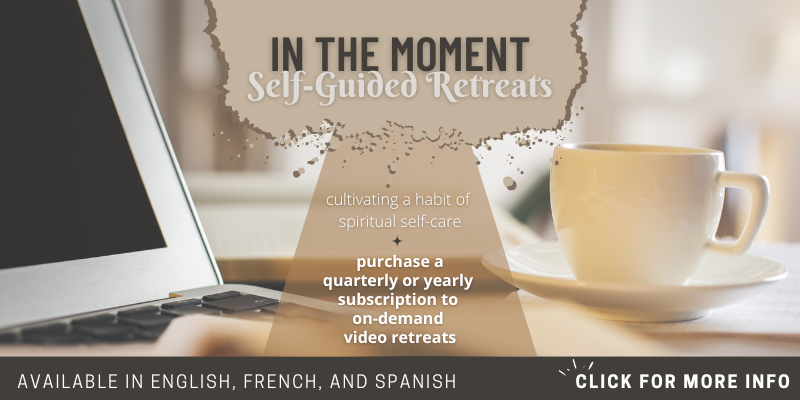 ---

Back to All