Anamcara Apprenticeship Q & A
"I recommend the Anamcara Apprenticeship to everyone on this planet because we need soul friends in our lives. I cannot say enough thanks to the Anamcara leadership team for my spiritual growth, transformation, healing, deepening my contemplative practice, mentorship, interconnectedness and love within our small circle of support."
Aya Wright, Graduating Apprentice 2021
֎֎֎
"As a retired educator of children, I am interested in being an Anamcara Grandmother and Elder, knowing that when one loves deeply, there will be deep grief. I want to be a beacon of light, an instrument of healing for my own family, especially for my children and grandchildren. These words: "Regularly visiting the depths of your own soul, we become the medicine for each other's healing"—ring true for me.
Joanne Friedt, Graduating Apprentice 2021
---
Anamcara, is a Gaelic word for "soul friend".
Star of the North is happy to partner with The Anamcara Project, a contemporary apprenticeship model of training and certification for caregivers and spiritual seekers. This two-year spiritual formation program starts in September 2021. The apprenticeship program applies tools and lessons for all aspects of life, particularly during times of aging, loss, serious illness and at the end of life.
Join us for a free, online question and answer hour with founder Richard Groves and Canadian director Debbie Doornbos to learn more about this program that helps us learn to be a soul friend to others through the various aspects of living and dying.
---
The Anamcara Apprenticeship is co-sponsored with the Sacred Art of Living Centre.
The Anamcara Apprenticeship deadline for application is June 30, 2021.
For full information & registration details, visit https://sacredartofliving.org/canadian-programs/
Event Details
Register below to receive a Zoom invitation to join us on Wednesday, June 17 at 7:00 pm (MST).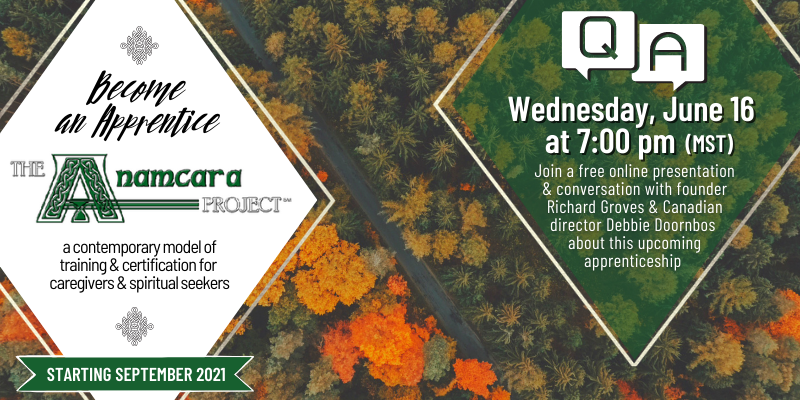 Register
Schedule